Emerson baseball stumbles in opening doubleheader with Wheaton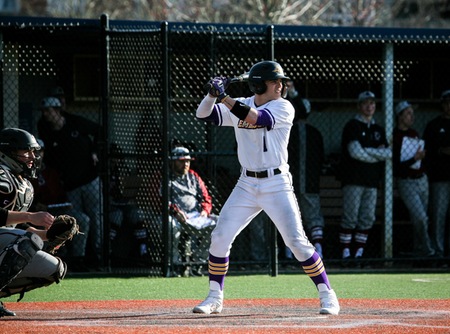 Emerson's baseball team fell to Wheaton 10-3 and 25-5 in their season-opening doubleheader on Saturday. 
The outing was the team's first since the COVID-19 pandemic canceled the remainder of the 2020 season.
While the final scores paint a one-sided picture, head coach Nicholas Vennochi saw plenty of positives. 
"I think we stayed together, stayed positive," Vennochi said in a virtual press conference. "It's easy to put your head down and say, 'Yeah that's tough', but I thought we stayed up all the way through and we battled and no one gave up."
Sophomore AJ Ortega started the first game, pitching 3.2 innings and giving up two earned runs. Vennochi was impressed by Ortega's performance against a formidable opponent.
"He did everything we could've asked him to do today," Venocchi said. 
The Lions fell behind 2-0 in the top of the fourth after RBI singles from Wheaton's Andrew Manni and Stephen Quigley. Wheaton's lead extended to 4-0 in the top of the sixth on runs from Patrick Santorella and Brody Ashley.
In the bottom half of the frame, Emerson's Josh Cohen and Matt Nachamie reached base when Thai Morgan stepped into the batter's box. Morgan delivered a three-run home run to left field and the Lions found themselves within striking distance at 4-3. 
Thai Morgan gets the Downtown Jacket for his three run homer in game 1! pic.twitter.com/L4cEzLT35Y

— Emerson Baseball (@ECBaseballLions) March 20, 2021
Wheaton pulled away down the stretch as baserunners piled up and continued to come around to score. Vennochi said he was proud his team kept it close for the majority of the game.
"If you were there, you could feel the intensity," Venocchi said. "They felt us. Respect was earned in that first game."
In the second game of the day, Wheaton got off to a sizable advantage. The Lyons nabbed a 5-0 lead on Emerson northpaw Johnny Maffei in the first inning and never looked back. The lead expanded to 13-0 in the third.
"That's a real solid opponent, I think it's pretty clear that they are because of how many [runs] they put up in that second game," Venocchi said.
Emerson's lineup came alive in the third inning with an RBI single from outfielder Quinton Copeland. The next inning, Louis Davolio hit a solo home run deep to center field. Then in the sixth inning, Jake Okamoto picked up an RBI when he was hit by a pitch, and Jake Hatch followed that up with a 2-RBI single. 
Even though Emerson was competitive, Vennochi still wants to see more progress from his team.
"We're not into moral victories here because that's not where we're at as a program, but when you don't execute, that's what happens, and we didn't execute all the way through," Vennochi said.
The Lions have another home doubleheader next weekend as they take on Coast Guard on Saturday, March 27, at 12 p.m. and 3 p.m.