Emerson, Boston brace for potential civil unrest as election picture clarifies
A purple sunset settled over Boston early Tuesday evening. The streets, bustling with people in the afternoon, thinned out, as rays of golden light spilled through the trees on Boston Common. The city was quiet. But in homes—in front of TVs or glued to phones or computers—voters were holding their breath. 
The city is bracing for the possibility of demonstrations contesting the election of either major presidential candidate, as an unprecedented campaign cycle comes to a close.  
Across Boston, restaurants, banks, and businesses secured pieces of plywood to the front of shops and window displays early this week. In Downtown Crossing Monday, workers were reenforcing City Smoke Shop and CVS. On Tuesday, more wooden boards popped up on Boylston and Tremont streets. 
While remaining cautiously optimistic that demonstrations in the city will remain peaceful, Emerson administrators are preparing the downtown Boston campus for unrest. From Tuesday at 6 p.m. to Wednesday at 10 p.m., all classes will be remote, President M. Lee Pelton announced in an email Tuesday afternoon. 
"We're preparing to be alert and try to analyze information as it comes in," Vice President and Dean of Campus Life Jim Hoppe said in an interview. "I'm hopeful. I'm hopeful we'll be surprised, and things won't result in the need for any additional action."
Workers boarded up the Paramount Theatre and 172 Tremont Tuesday, and Emerson-owned theaters and the Little Building are set to be secured Wednesday, Hoppe said.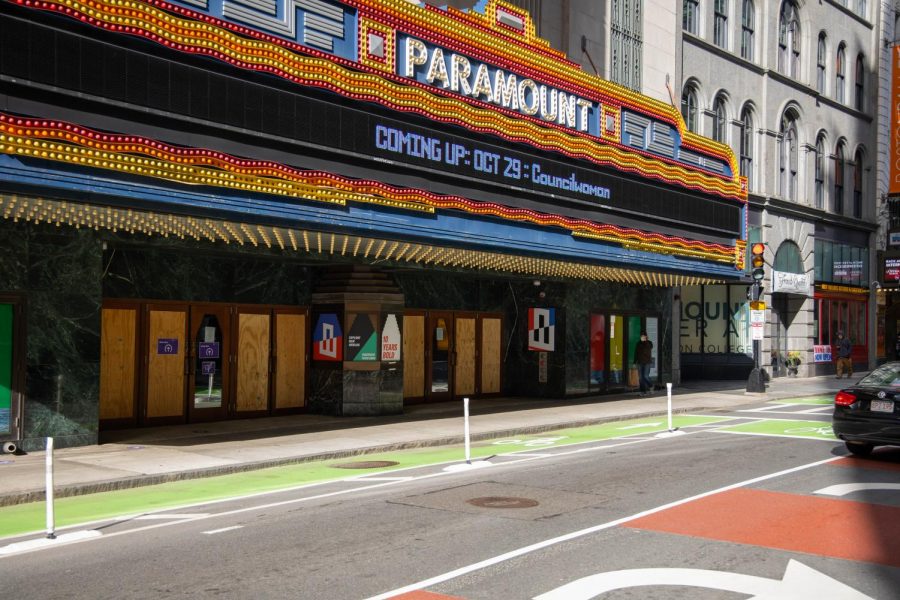 College buildings are locked—only open to those with tap access—starting at 6 p.m. on Tuesday and Wednesday nights. The Emerson College Police Department will "focus on keeping our residence halls, theatres and administrative offices and academic offices safe and secure for community members," Pelton said in the email.
ECPD did not respond to repeated requests for comment. 
"There's just so many scenarios that could play out that all depend on what the outcome [of the election] is, and if there's any kind of contention," Hoppe said.
Tuesday's election is the culmination of a tense presidential race underscored by the accelerating COVID-19 pandemic. Voters cast more than 60 million mail-in ballots before Nov. 3, even though incumbent President Donald Trump has repeatedly and falsely claimed mail-in voting is rampant with voter fraud. More than 35 million cast early in-person votes.
Trump has also indicated that he may not accept the results of the election.
In a press conference Monday, Boston Mayor Martin J. Walsh said businesses are taking precautions based on the divisiveness of the 2020 election cycle. Last week, he indicated that protests were likely to happen regardless of the election results.
"There's a lot of tension right now in our country, between COVID the entire year, all of the undercurrent of systemic racism and what's happening there, and you have a presidential election that's been at the forefront of a lot of people's minds for a long time," he said Monday. "Watching what's happening around the country, I think businesses are taking precautions."
Massachusetts Gov. Charlie Baker has 1,000 national guard troops on standby should tensions boil over, he announced Monday. Baker last called the national guard to Boston when demonstrations in response to the killings of George Floyd and other Black people by police gripped the city.
Garbanzo Mediterranean Grill, a new on-campus restaurant, is playing it by ear.
"We're monitoring the situation very closely," owner Derek St. George said. "We're waiting to see what Emerson and places like The Shaking Crab, Tatte, and El Jefe's will do. If they take precautions to board up, we will follow suit." 
On Newbury Street, upscale shops like Faherty Brand have boarded up. In Beacon Hill, some stores have done the same. Gary Shteymaer, manager of Persona Fine & Custom Jewelry on Charles Street, said he is boarding up to protect his business from the protests he fears will erupt. 
"There might be protests like two previous times," Shteymaer said. "The first time was really violent, and I feel like it might get that serious so I don't want to take any chances and do everything necessary to protect my business." 
Lucia Thorne contributed reporting.