Emerson Police Lieutenant remembered for positive, caring nature
Dan Morse's laugh lit up every room he entered. 
Worcester State University Police Chief Jason Kapurch, who worked with Morse for over 20 years at WSU, said that Morse's laugh was one of his most memorable traits.
"I don't know anybody that knows him that wouldn't remember his laugh," he said in a phone interview. "It was infectious. You could hear it from a mile away."
Morse died Saturday at 64 after a nearly five-month battle with Sarcoma—a rare, aggressive form of cancer—starting in January.  Morse spent 20 years with the WSU police department, rising from officer to deputy chief, before spending six years as a Lieutenant with the Emerson College Police Department. Morse is survived by three children, Daniel, Joseph, and Amanda, as well as four grandchildren, Landon, Savannah, Layla, and Damien.
Morse's daughter, Amanda, said she will remember her father for his kind heart and witty sense of humor. She said Morse was beloved by all those who met or spent time with him. 
"He would help out anyone if he could, in any way shape or form," she said in a phone interview. "I honestly feel that my father was the sweetest guy to walk this earth. He would be known to crack a joke, even in the hardest of times, to make people feel more at ease."
She also emphasized Morse's patience as one of his defining qualities, citing the times when he tried to teach her how to golf or to drive his stick-shift truck.
"My dad, a few years ago, thought he was going to teach me how to golf … and he used to tell me all the time that I didn't have the patience to golf and that I just needed to relax and that it would come to me if I was more patient," she said. "I guess that was something I didn't have that he did."
Morse's eldest son, Daniel Jr., recalled a time when he competed in the pinewood derby as a Boy Scout. His father had designed Daniel's car for the derby and consoled him after he lost at regionals.
"My dad pulled me aside and he said 'you're not always going to win, you have to be able to accept some kind of loss. It's part of life, you're not going to be the best at everything you do.' That kind of stuck with me," he said. "My uncle told me that when they were kids something very similar happened and my dad threw a fit that lasted about a week because my uncle beat him in the pinewood derby when he was a kid."
Daniel said his two kids, eight and five years old, have taken the loss especially hard.
"He would come over to my house whenever he could, and it was like Christmas every time he would show up," he said. "It was like I couldn't compete with the guy … he would get down on the floor and build these elaborate train tracks with them and that was all my kids cared about—spending time with him and being around him." 
Kapurch said Morse was adept at helping coworkers through difficult situations on the job, noting that Morse was always looking out for his fellow officers before himself. He also emphasized that Morse was an excellent officer who was totally dedicated to his job.
"We worked together through some suicides, and when somebody [college] age commits suicide … it's really depressing, it really hits home," he said. "Dan had a knack for making sure that all of the officers and everybody else around was all set."
Another of Morse's co-workers at WSU, Gail Tebo, said Morse was one of a kind, specifically mentioning Morse coming to see her every day during her own battle with cancer.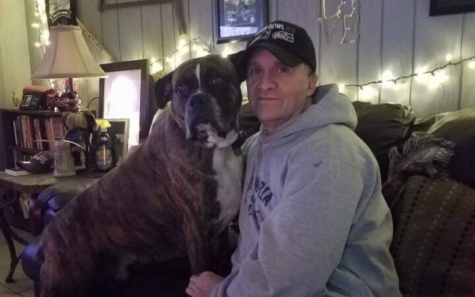 "He was the best friend you could ever have or ask for," she said. "He was really compassionate and caring about other people as well. He was always worried about something that was going on with somebody. He was always trying to help."
Tebo said Morse maintained his compassionate manner on and off the clock, citing times when he would come light fires at her home which led to him earning the nickname "the firestarter". 
"Dan was Dan, whether he was working or he was over here having a couple beers," she said. "Every weekend he was at our house. Every holiday he was at our house. He worshipped his kids and his grandchildren and we were just like family. He was more like a brother to me and my husband than anything."
Deputy ECPD Chief Eric Schiazza wrote in an email to The Beacon that Morse was more than a co-worker to him.
"[Morse] was a friend, a great colleague, and someone I could rely on in difficult times or when I needed assistance," he said.
ECPD Chief Robert Smith said Morse will be fondly remembered by all members of the department. 
"Dan was a loved and respected member of the Department who never hesitated to help a fellow member of the ECPD," he said in a statement. "He will be remembered for his infectious laugh, outgoing personality, and the leadership and guidance he brought to the ECPD."