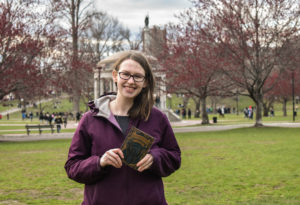 Science fiction and fantasy fill the pages of two books published this semester by Undergraduate Students for Publishing. Wandering and Other Stories by Melissa Close and Beautiful Homeland: Mother Earth by Patrick R. Groleau will launch at the club's event at the Bill Bordy Theater on April 23.
The student publishing group, known as Pub Club, reviews submissions and releases two books each semester. This spring, the club highlighted genre fiction—works that revolve around plot more than their literary counterparts—a diversion from past years.
"Genre fiction is typically linked with popular fiction, which focuses more on plot than characters," Close said. "I don't really like to have a distinction between the two because there are some genre works that warrant and deserve literary criticism."
Wandering and Other Stories contains four standalone stories regarding humanity's relationship with nature. Some stories contain an environmental creature, from a dragon to a water spirit, tied to one specific element or place in nature. For example, Close introduced the "tree folk," who are in touch with their roots and the power of the Earth.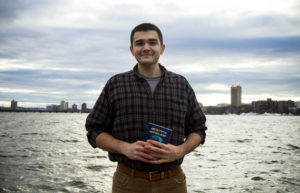 Beautiful Homeland: Mother Earth tells the story of scientists from the International Space Station returning to a deserted, post-apocalyptic Earth. Groleau wanted to introduce the theme of mankind's relationship with the environment and exposure to unknown elements. For Groleau, writing genre fiction gave him a chance to create stories not focused on characters, but on fantastic worlds and adventure.
"With science fiction, I can put these cool things into the plot that do not need a greater meaning," Groleau said. "I like [genre] fiction, so I was looking for something that would strike and keep the reader's attention."
Groleau said he drew on his experience as an intern for the Charles River Watershed Association and that many of his days were spent paddleboarding and gaining thoughts and ideas for his story. According to Groleau, his characters use the world around them to survive in the post-apocalyptic world.
"I got a mix of seeing civilization and also being exposed to nature and being out on the water," Groleau said. "It was great taking things away from the internship and progressing and integrating them into my story."
Pub Club sorts through submissions in the beginning of the semester and selects four finalists, according to Vice President and Co-Marketing Director Jess Morris.
The editorial board chooses the top two selected works that then go through a series of edits before their release. Morris said the process models how the professional publishing industry works.
At Monday's event, the authors will sell their books for $8. Profits will go to charities of their choice—Close's to the Environmental Defense Fund and Groleau's to the American Foundation for Suicide Prevention.
Morris said she hopes the focus on genre fiction will encourage other writers to submit these types of stories.
"We really haven't had many strong enough genre fiction manuscripts to vote for," Morris said. "It's pretty exciting and I'm happy about spotlighting two genre authors for the Emerson community."