Marketing students sell $5 'Brownie In A Jar' in Walker
After the closure of all campus kitchens due to COVID-19, the convenience of cooking in dorms disappeared. But worry not—a team of five Emerson students found a way to create delicious baked brownies with just a microwave, a Mason jar, and a few ingredients. 
Senior Kristen Cawog, juniors Lily Marsh and Olivia Strauss, and sophomores Kayla Fontalvo and Gabriel Simao created a unique venture for professor Lu Ann Reeb's Entrepreneurship I class, a course exclusively for entrepreneurship minors. 
The idea was simple: sell brownies in a jar. 
The students found a brownie recipe that does not require eggs for students who live on campus and do not have access to an oven. Most brownie recipes require eggs, which cannot be cooked in a microwave, making this recipe all the more convenient. 
In a makeshift stand inside of Walker Building, they sold the $5 Mason jars with the dry ingredients—including flour, sugar, cocoa powder, cornstarch, salt, and chocolate chips—inside. Alongside the jar, they provided the necessary wet ingredients, including a quarter teaspoon of vanilla extract, two tablespoons of vegetable oil, and two tablespoons of water. Customers were instructed to add the separate wet ingredients to the jar and mix well, then microwave it for 60 seconds to create an instant brownie. 
Lily Marsh describes the project as "incredibly convenient" for college students whose on campus cooking options are limited.
"We knew that college kids didn't have easy access to cooking supplies and ingredients, so we wanted to make it an all-in-one product," she said. "What drew us to the recipe was the fact that it was so easy and so college student-friendly." 
The students were given $10 through the class to create a sustainable venture, Marsh said. The five students used the money to purchase the jars and ingredients. Once the jars were put together, they began selling them in the Walker Building since a stand was not permitted in the dining hall due to COVID-19 restrictions. 
To promote their business, the group created an Instagram account, @e3brownie, on October 15th. In just a few days, the account amassed more than 200 followers.
"As a team, we all really enjoyed working and posting on social media," Marsh said. "Since we made it into a business account, it was really cool to see all the analytics of our followers."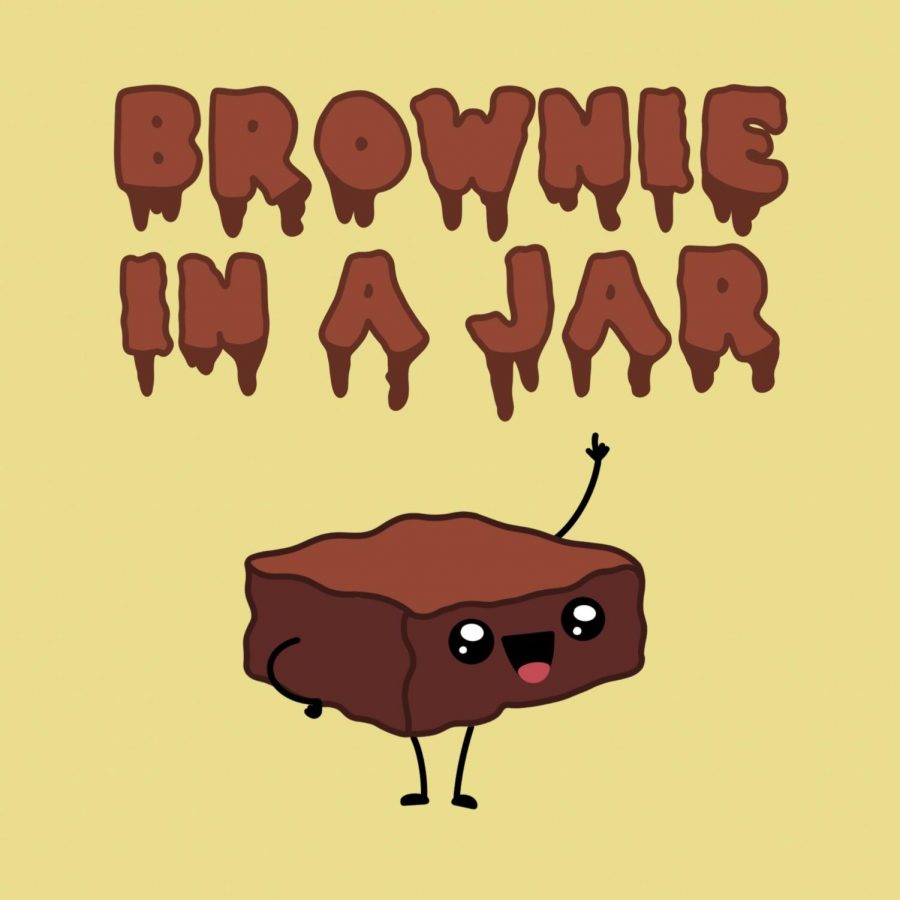 Students had to direct message the Instagram account to sign up for a five-minute time slot where they could purchase the jar. The students' first batch of 12 jars sold out on their first day, as did their next dozen on the following day. 
The team created a Venmo account for the brownie jars, and students sent them money before their pickup time to receive a jar with instructions and ingredients pasted on it. 
The team didn't want to price the brownie in a jar too high. But at the same time, they knew the product was one-of-a-kind and that students would be willing to pay $5 for it. 
"We did some research on similar items and settled on $5 because not only do they get their brownie in a jar, but they get the actual jar and the recipe too," Marsh said. 
Simao created a "how to" video and posted it on the Instagram account, where it amassed nearly 400 views. They also hosted a giveaway on Instagram where students could comment on the post, tag two friends, and share the post in order to win two free jars. Approximately 30 students commented on the post. 
"It was so fun to see our idea come to life and see how excited Emerson students were about the venture as well," Marsh said.  
Simao said it was exciting to see the giveaway post gain engagement from students. 
"[It was] so cool because they could see people like comments they were tagged in, and then those people would tag two more people," Simao said.
The team agreed that they would keep the business venture going and even pitch in their own money to continue the project. They created a small profit out of the sales, which the team is considering donating to Helping Students Directly, a mutual aid fund that helps low-income students at Emerson afford school and living expenses. 
"It was so fun to see our idea come to life and to see how excited Emerson students were about the venture as well," Marsh said.