Pub Club to release students' books about adulthood and racial differences in America
Junior Antonio Weathers wrote poetry to pass time during classes—sometimes writing only single words or stanzas. His compiled work then became Bird Folk, an anthology about the African-American experience in America and at Emerson.
Undergraduate Students for Publishing, or Pub Club, will release their second Book Project of the school year that will feature Bird Folk by Weathers and Here, There, & Everywhere by senior Rebekah Scarborough on April 18 from 7-9 p.m. in the Bill Bordy Theater. Pub Club will sell the books for $8 each and donate the proceeds to charities of the authors' choosing. The authors will read a short passage from their work, answer audience questions, and sign books at the event.
The Book Project began 15 years ago and allows students to experience the publishing process. In Pub Club, students work as editors, designers, and marketing agents, and submit written manuscripts of any genre for the opportunity to get their own work published.
This semester, co-president and junior Alyssa Weinberg said Pub Club received 11 submissions. The executive board voted and selected four finalists.
"We go through each book and talk about pros and cons and keep in mind editorial potential, design potential, marketing and different restrictions some things will have," Weinberg said.
Pub Club, with 50 students working in the Book Project department, chooses and votes for the final two pieces which then go through the process of editing, revising, copy editing, designing, proofreading, and printing under Wilde Press, the publishing company run by Pub Club.
Weather's submission Bird Folk involves themes of racial tension. Weathers said he chose the title because it is a metaphor for how people treat African-Americans in America.
"Birds are the most mutilated species in America in the fact they are used for target practice and repeatedly poisoned by bread," Weathers said. "Pigeons can't eat bread, but we still feed them that the most even though it really messes up their digestive system. If you connect that to African-Americans in America, they are the lowest on the spectrum in terms of power and privilege."
In one of the poems in the book called Her Grace, Weathers wrote about getting groceries and experiencing a stop-and-frisk by the police. In another, Weathers discussed the power dynamic between men and women within the black community.
"The poem 'Land of Opportunity' is about America," Weathers said. "Even though you feel like you have all of these opportunities, it comes with this crippling thought of debt or the nature of things that make it hard for you to improve yourself financially or potentially."
Co-president and senior Shadin Al-Dossari said many Pub Club members felt Bird Folk was unusual and seemed lyrical.
"It spoke about the African-American experience in America, and that is not something that we often publish, so it was exciting to have something more diverse," Al Dossari said.
Weathers chose to donate the proceeds of his book to Boston Scores, a team-based educational program he participated in as a child.  The organization provides students in the Boston Public School system with the opportunity to learn about health and well-being, academic engagement, and civic leadership, according to its mission statement. Weathers said his interest in writing poems began in Boston Scores' poetry program.
"A lot of these poems were ideas that I had," Weather said. "Like they were a seed and I was waiting for them to plant."
Pub Club's other selection, Here, There, & Everywhere, is a compilation of Scarborough's personal essays about discovering home. She began writing and compiling them for her senior thesis.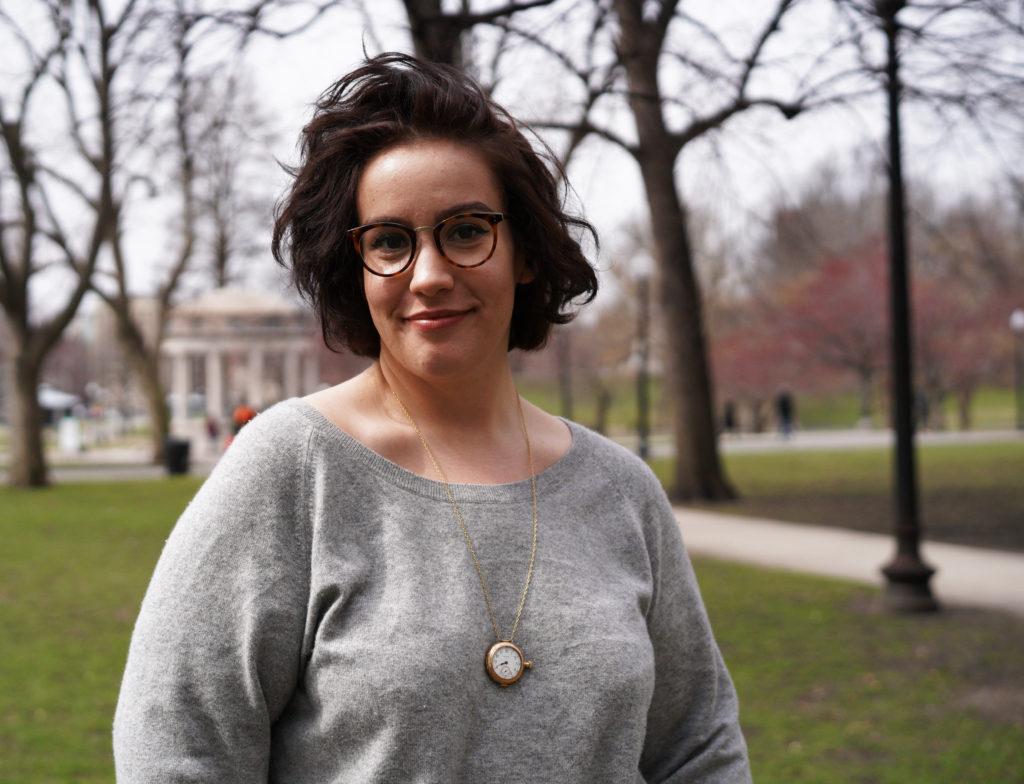 Scarborough said she originally wrote the essays just for her own personal journals. She said she writes predominantly for women and about themes such as not feeling alone, having sex for the first time, and independence.
Scarborough grew up in Macon, Georgia and attributes her Southern upbringing to the difficulties she experienced while transitioning to life in Boston.
"I remember I said 'ma'am' to a customer at my first barista job here and she was super offended and yelled at me," Scarborough said. "I just felt like I am going to get yelled at if I don't say this to you—like it feels disrespectful not to."
In her essays, Scarborough writes about her close relationship with her mom and how leaving her was difficult. She said she debated whether she should come to Boston and be so far away from her.
"My mom and I are best friends," Scarborough said. "I think we are funnier than Gilmore Girls."
Al-Dossari said the relatable writing in Here, There, & Everywhere allowed her to feel like she was friends with the author.
"Her writing is so good that it can be read like it's fiction sometimes," Al-Dossari said.
Scarborough decided to donate the profits of her book to 826 Boston, a non-profit organization she interned with last year from August to December. The organization aims to uplift low-income middle and high school students in Boston through the power of storytelling.
"When I left, I was so heartbroken I did not want to leave," Scarborough said. "That process taught me about what I want to do post-grad, like would I want to go in the non-profit sector or would I want to work with kids?"
Weinberg said Pub Club is looking for students interested in being a part of the publishing process and submitting their own work for the Book Project next semester. She believes the key to successful writing is authenticity.
"When I read writing, I just want to feel compelled by the author in whatever way they do it," Weinberg said. "I think that is something these two pieces do really well in that they are so natural in the way they are written. My best advice is to write from your heart."