Registrar and Academic Advising relocate to Ansin Building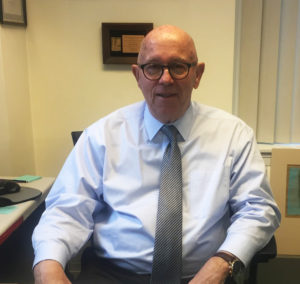 The Academic Advising Center and Office of the Registrar will move from the Union Bank Building to the fourth floor of Ansin Building, which is aimed to reduce student traffic and make communication between the offices run smoothly.
At the start of every semester, the offices are congested with students trying to sort out schedules and retrieve transcripts, according to the registrar.
"Last semester, I was figuring out my schedule and running between both offices, which was time-consuming and stressful," freshman Emily Cristobal said. "The move is definitely going to make it easier for the students."
Academic Advising and the Office of the Registrar will move from the sixth and second floor of the Union Bank Building, respectively, to the fourth floor of Ansin in March.
Due to communication difficulties and a shortage of space, Executive Director of Academic Administration Anne Doyle and the Space Committee decided the offices should be located on the same floor.
The Office of the Registrar opens an hour later than normal on Wednesday mornings to hold their weekly staff meetings because their Union Bank Building office lacked a space to hold these meetings. The space in Ansin will have a conference room to mend this issue.
Both offices serve student academic needs and report back to Doyle. The Office of the Registrar handles student academic records and degree audits essential to Academic Advising, which helps register students for courses and tracks their progress for graduation.
"It makes sense for them to be together in a space to share resources and be able to serve the student," Doyle said.
Students will no longer need to travel between different floors, as the two offices will share an entrance. The move will also benefit students by creating a bigger physical space for walk-ins, Doyle said.
"The space was never large enough to accomodate walk-in traffic, especially when we're doing registration kinds of things," Registrar William DeWolf said.
Students will be notified of the move by flyers posted around campus after spring break. Senior Associate Vice President for Real Estate Arthur Mombourquette said one of the two vacated spaces in the Union Bank Building will be used for classrooms.
Construction in Ansin began in December. Media Services will also occupy a portion of the floor. The college will not be sure of the expenses of the move until the construction is complete.
"My goal, the whole time I've been at Emerson … is how can we make things work better for the student, make it work easier, more streamlined," Doyle said.
Prior to the vacancy, part of the Office of Information Technology occupied the fourth floor of Ansin before moving to 20 Park Plaza in 2016.