Student leaders wrestle with managing organizations under COVID-19
Emerson's hybrid-learning reopening plan, announced Wednesday afternoon, answered students' lingering questions about the fate of the fall semester. But for many on-campus student organizations, uncertainty still surrounds their impending operations.
An on-campus semester in the era of COVID-19 will bring a new set of challenges for student organization leaders. These include a shortened fall semester, where students are unable to return to campus after Thanksgiving break, and a new set of safety restrictions. 
While the hybrid learning plan briefly mentioned de-densifying the campus and enacting social distancing measures, specifics remain unclear. 
Many student organization leaders said they are still waiting for information from the Office of Student Engagement and Leadership about how their organizations will be able to continue in the fall. 
"Decisions on how student organizations will function will be based on guidelines from the city and depend on what phase of reopening we are in," Director of Student Engagement and Leadership Jason Meier said in an emailed statement to The Beacon. "We take the health of our community members very seriously and any decisions will reflect practices that help keep all students, faculty and staff safer. SEAL is also consulting with and working with several student leader advisory groups that are offering feedback and guidance on potential policy impacts."
For many student organization leaders, the ability to hold weekly meetings is now a top concern. 
"As a cultural [organization], we are more about making in-person connections," Diego Torres, vice president of the Latin cultural organization AMIGOS said. "Online would not be entirely impossible, but community building I think is done best when we are able to meet in person."
Organizations on campus vary in size, with some often holding meetings with more than 60 members present at one time.
"Our general meeting usually has 50 to 60 people in one room, and now it's something as simple as that which may be a little more difficult," WEBN President Angel Salcedo said. "We need to get into the studio, and obviously that comes with a whole list of concerns with the coronavirus. So right now we're just trying to figure out when we're going to be allowed in the studios, what are the safety procedures going to be when we're inside the studios, and then how do we make sure none of our staff members are at risk."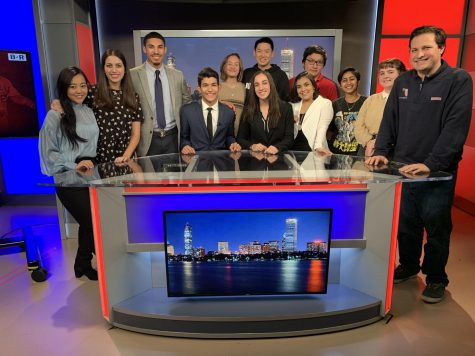 Salcedo said his first thought after finding out about the fall plan was how international students involved in the broadcast journalism co-curricular will be affected. 
"I was a little bit antsy, because for international members, it's not even really about them getting over to the U.S.—it's if the second wave does come, can they get back home after Thanksgiving?" Salcedo said in a video call from Weston, Massachusetts. "I've had conversations with some of our international staff members, and it's mainly just reassuring them that if [they] can't come back to Emerson [they're] not going to be ousted from WEBN." 
WEBN has begun to plan workshops for their members on how to report while social distancing. 
"It's figuring out how we not only keep ourselves safe, but also, we want to make sure whoever we're interviewing feels safe as well," Salcedo said. 
When Robby Gessel was elected president of the comedy troupe Chocolate Cake City in March after his semester at Kasteel Well was cut short, he did not expect to begin his new role from his home in Arlington, Virginia.
"I've only been president during quarantine, so my role now is mostly organizing Zoom calls," Gessel said in a Zoom interview with The Beacon. "I'm just glad we'll be back on campus, even if we have to wear masks or socially distance. Just being in the same room together is huge for us."
Chocolate Cake City has begun to consider alternatives to their usual live performances. 
"I think we might have to pivot from performing live shows to doing more multimedia-like videos, maybe podcasts or something, and that's definitely doable," Gessel said. "It's just a change in the way we've been operating." 
The availability of theatre spaces will be a huge obstacle for performance-based organizations, Emerson Dance Company President Lauren Bjella said. The college usually offers the Semel Theatre and the Greene Theatre to student organization performances every semester and the Paramount Theatre during the spring semester. In the fall, students will only be allowed to use the Greene Theatre, which normally seats 108 people, Bjella said in a Zoom interview. 
"When we submitted the venue request, the only theater that [the college] offered any of the performance orgs was the Greene Theater," Bjella said. "Usually we are in the Semel Theater which is 216 seats. The Greene theater is only 108."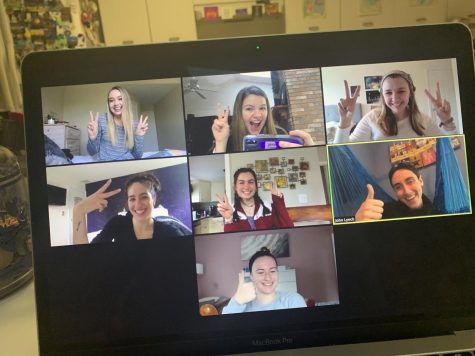 New social distancing regulations could further limit the amount of theater seating for performances. 
Charlotte Palmucci, Musical Theatre Society artistic director, voiced concerns about the lack of information surrounding performance-based organizations in a Zoom interview from her home in Brookline, Massachusetts. 
"There isn't any information about student organizations or theater in general," Palmucci said. "Even though we know we're coming back in some sense, which is awesome, we don't know what that necessarily means for the theater and theater spaces [on campus.]"
Palmucci said performance-based organizations on campus, such as the Musical Theatre Society and Emerson Dance Company, have begun to think about what performances might look like under the college's new guidelines. 
"Number one is social distancing while doing a production, especially while singing, because when you're singing you're exerting more air," Palmucci said. "The other thing is audience size. I'm going to assume that we are not going to be able to pack the audience completely full, and the audience energy is completely vital to our performance."

The root of many cultural organizations on campus, such as AMIGOS and the Jewish organization Hillel, is having gatherings where members can come together to socialize, eat or celebrate holidays. 
"I'm mostly concerned about the amount of people you can have in one place in a campus setting," Torres said. "We [order] a lot of food [from] outside of Emerson. I don't know if that's going to be allowed anymore." 
Emerson Hillel President Rachel Tabin said she has been in contact with members from Boston College's Hillel group to try to find ways to continue to celebrate Jewish holidays as a community in the fall while following safety guidelines. 
"We have a lot of the High Holidays going on [in the fall], and that's when our attendance is highest," Tabin said. "We don't necessarily have any concrete solutions yet."
The college's reopening plan prohibits students from returning to campus after Thanksgiving break and will instead shift the final two weeks of courses and finals online. Under the new timeline, traditional events such as the Emerson Fights AIDS Gala, a yearly fundraiser held by the Musical Theatre Society in the second week of December, will have to be rescheduled or reimagined. 
"There's an opportunity to make it virtual, which would be really interesting, and could possibly get more people to participate from around the country," Palmucci said. "There's an opportunity to do it on a different date, which could be interesting."

President of the National Broadcast Society Davin Roberts said in a Zoom interview from his home in Connecticut that his biggest fear for the fall is losing studio time. 
"We have the same amount of people and less time," Roberts said. "All these [student projects] that take those last three weeks to finish up before the semester ends are going to have to somehow be pushed earlier, which could potentially affect NBS. It could affect many other [organizations] as well."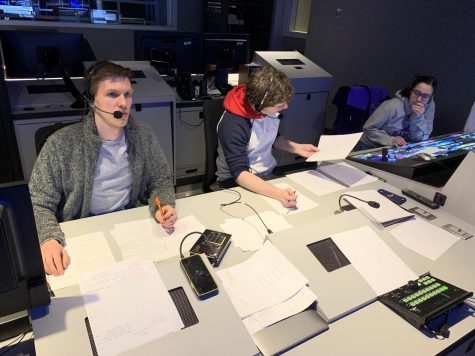 Meier said that he is hoping to have more information to inform the decisions surrounding organizations on campus in the upcoming weeks. 
"I would appreciate an email soon getting more details," Torres said. "This is going to be a rough, complicated transition for everyone. So the earlier the better, but I understand it's easier said than done …we're not going to let the organization die out. We're gonna fight it and we're gonna do our best to make it the best semester that we can considering the circumstances." 
Roberts said the upcoming semester will be one for NBS members, and Emerson students in general, to remember. 
"I think people will look back and say, 'Wow, that that was tough to navigate,'" Roberts said. "I think that's what makes Emerson so great, is that everyone is still thinking 'How can we do what we always set out to do?'"