Students 'March for Our Lives' in D.C.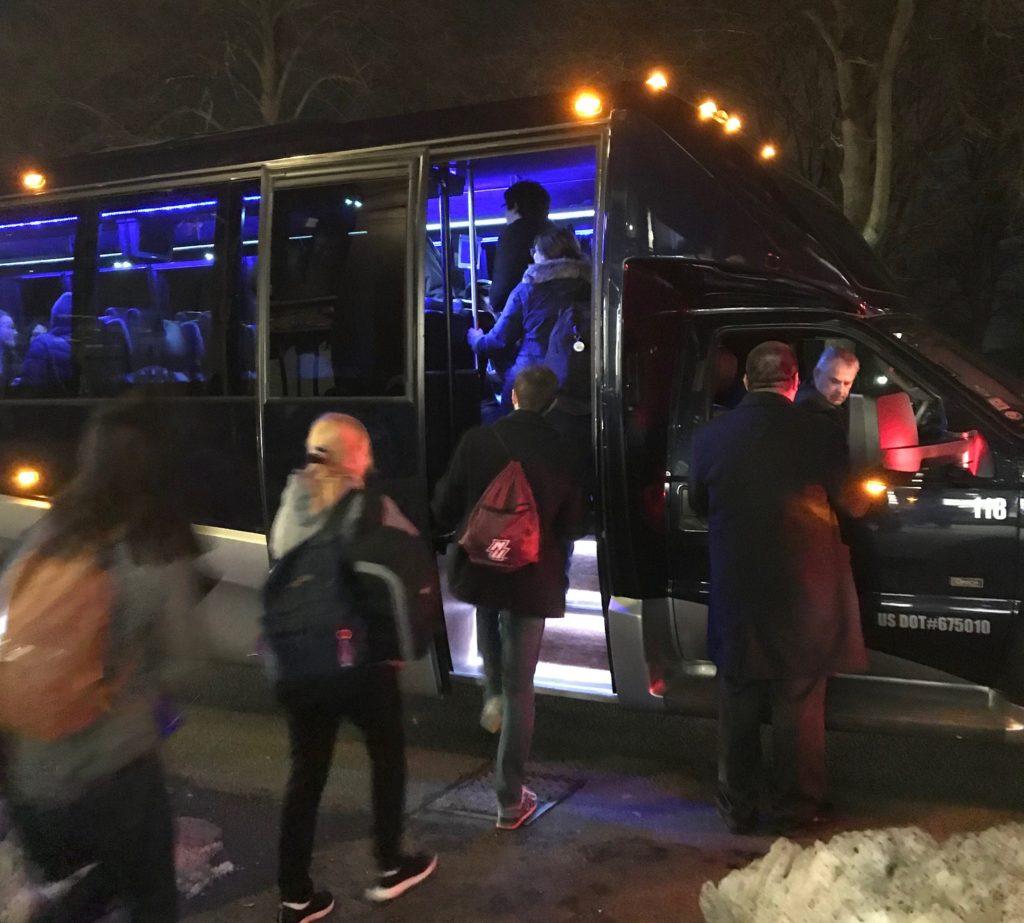 By Belen Dumont, News Editor
March 24, 2018
Standing with a friend in front of the Dining Center, sophomore Brian Sweeney waited to board one of two overnight shuttle buses headed to his hometown of Washington, D.C. at 10 p.m. on Friday. There, he and about 50 other Emerson students will attend the March for Our Lives protest on Saturday morning.  
"It's good to go directly to the source and be active," Sweeney said.
Emerson's Social Justice Center and the Student Action Network partnered to sponsor the shuttles. The students will march at the gun-reform rally on Saturday morning. Cities across the country, including Boston, will take part in the protest more than a month after 17 people lost their lives at a school shooting in Parkland, Florida. The students will depart from Washington on Saturday at 7:00 p.m.
The SJC sent an invitation to students on Thursday. Organizer and faculty member John Gianvito said all the seats were claimed by the end of the night. The visual and media arts professor is the only faculty member accompanying the students.
"So many people have been profoundly moved by the eloquence and determination of the students in Parkland," Gianvito said. "It's rare that we get to bear witness to broad social movements that really gain this kind of attraction."
We choose information accessibility
News and the truth are under constant attack in our current moment, just when they are needed the most. The Beacon's quality, fact-based accounting of historic events has never mattered more, and our editorial independence is of paramount importance. We believe journalism is a public good that should be available to all regardless of one's ability to pay for it. But we can not continue to do this without you. Every little bit, whether big or small, helps fund our vital work — now and in the future.
Gianvito said he suggested to President M. Lee Pelton a few weeks ago that the school should provide a way for students to protest because his brother knew two victims of the Parkland shooting. Since then, Gianvito organized the event with Vice President for Diversity and Inclusion Sylvia Spears and student Matthew Mogavero, a leader of the Student Action Network.
Alejandra Duque, who boarded the bus with the group, said she thinks the march is making history.
Attending with Duque are Emma Voiles and Isabella Guerrero, carrying small backpacks and huddling together against the cold.
Violes said it's time for change to happen. She's from Colorado, where two major school shootings occurred at Columbine High School and Arapahoe High School, both within the past two decades.
Guerrero lives 20 minutes away from Parkland.
"I really do feel like we have to go out and stand up, and all of us here are at the age to vote, and to show solidarity and that we stand with an important clause," Guerrero said. "[This is] making history. It's like our generation can do something."
Belen Dumont, News Editor
Belen Dumont is a Junior journalism major with a minor in women's, gender, and sexuality studies and The Beacon's current News Editor. The Connecticut native is a first-generation American who hopes to...