Women's soccer aims for playoffs after disappointing 2017
By Kyle Bray, Former Managing Editor: Visual and Design
September 11, 2018
The women's soccer team aims for its furthest playoff run since 2016 following a tough 2017 season.
Last season, the Lions trailed 3-7 in the New England Women's and Men's Athletic Conference and finished ninth—two places from a playoff spot. Their struggles came after No. 2 scorer Paige Haley suffered a torn ACL, combined with no dedicated goalkeeper on the squad. For the 2018 season, the Lions overhauled their roster, adding 11 new freshmen including three goalkeepers—Sophia Giordano, Megan Rose, and Silvia Dowdell.
While Dowdell will miss the season due to a torn ACL, Rose and Giordano have made early impacts on the squad. Rose started in all four of Emerson's opening nonconference games and leads the team in saves and wins with 23 and 3, respectively.
Giordano earned a shutout in her lone appearance against Regis College.
Head Coach David Suvak said having three dedicated goalkeepers now is great for the team.
"Having three recruited goalkeepers on the team right now is super important to the confidence of our team," Suvak said. "I think the players that play in front of them feel comfortable and confident with them and their abilities in the goal."
Senior captain Jess Frost said Rose emerged as a leader in the team despite her freshman standing.
"Megan's unstoppable. She's great, and we're really lucky to have her," Frost said. "She's [been] a great vocal leader as a freshman which you don't see a lot."
Frost said that she was impressed with the freshmen so far.
"We have a bunch of freshman stepping up on the field and in practice just pushing us and the rest of the team to get better every day," Frost said.
Freshmen Grace Cosgrove, Kayla McNamara, and Keelie Verbeek featured in all of the Lions' opening four games this season along with Rose. Cosgrove even scored her first collegiate goal in Emerson's 5-0 victory over Regis on Sept. 2.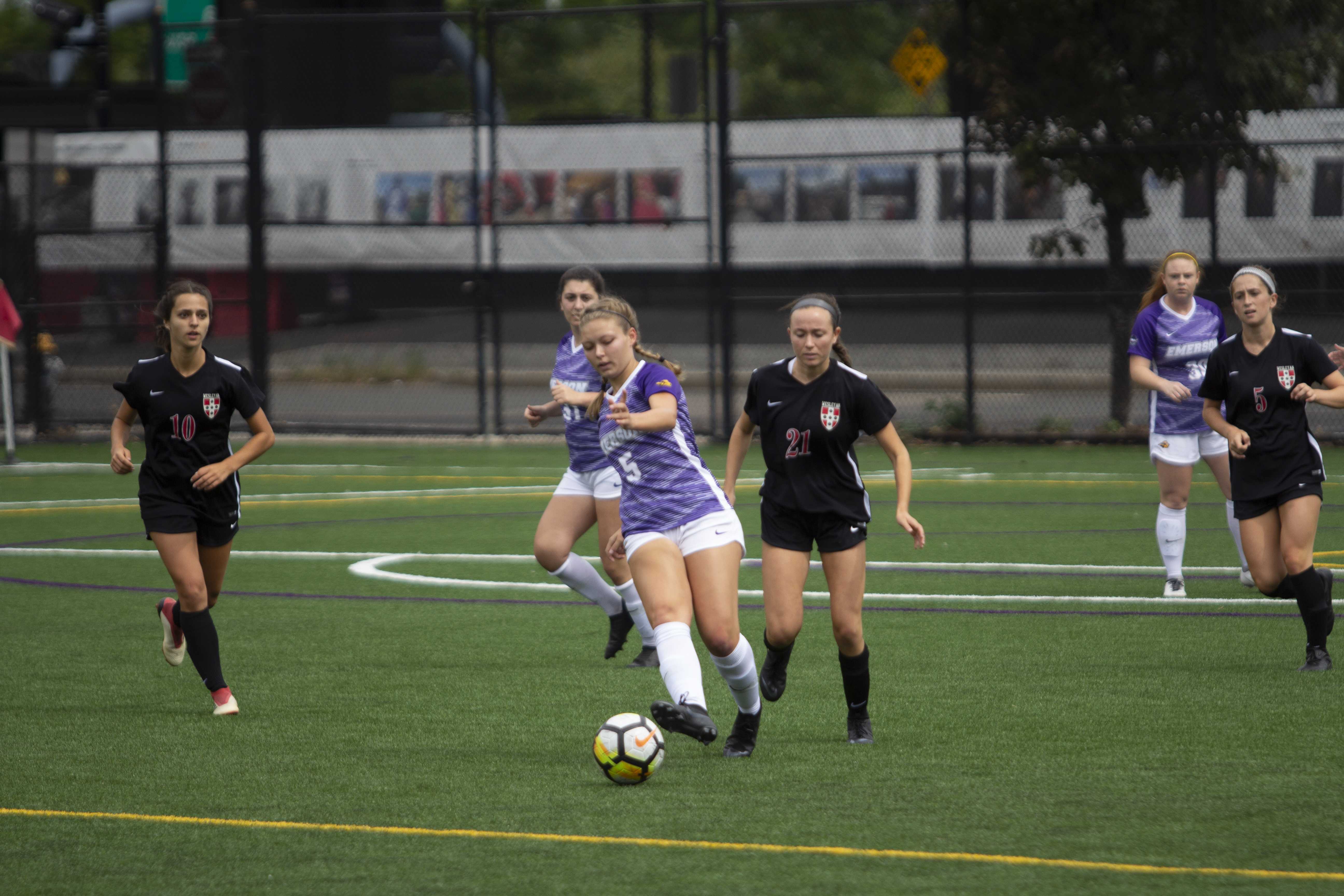 Rose said the team's upperclassmen helped the new players settle into their important roles early on in the season.
"Quite honestly, I don't think any of us expected to start, so that was really cool to see some of the freshmen starting," Rose said.
The Lions are 3-1 to commence their 2018 campaign after beating Emmanuel College 2-1 in overtime, Regis 5-0, and Wesleyan College 1-0. Their lone loss came against Tufts University—who made the 2017 Division III NCAA tournament last season—in a 4-0 defeat.
After their tough season last year, Frost said the team's strong start to the season is important for the team's success in the NEWMAC this season.
"I think everyone's just got a new mentality," Frost said. "Everyone just wants to move forward and go back to being super competitive in the NEWMAC, and I think a 3-1 start is great."
NEWMAC named Frost as its women's soccer Offensive Athlete of the Week for the opening week of the season after she scored three goals in Emerson's opening two games, including a two goal game against Emmanuel.
Suvak said Frost is one of his team's best players this season.
"I think she's gained a lot of respect from the coaches who are in the NEWMAC," Suvak said. "If she can get a goal in every NEWMAC game, we would be in a good situation."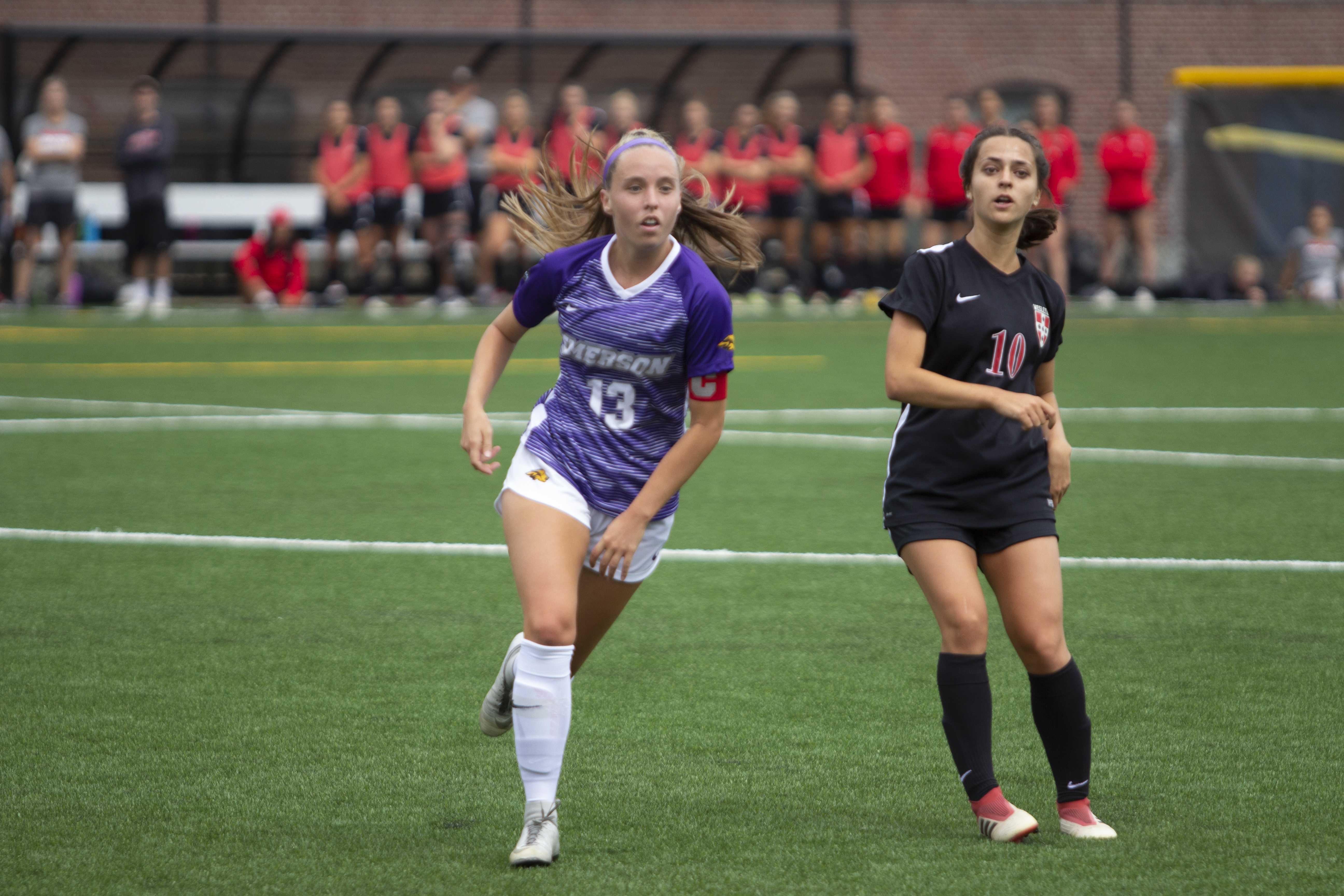 Frost said the team has big expectations for a playoff run this season.
"We have really high hopes for ourselves and high standards," Frost said. "Last year we did not play anywhere near where we should have. Making it into the NEWMAC playoffs and getting a win is really our goal for this season, and just showing everyone that two seasons ago wasn't a fluke and that we're actually a competitor in the NEWMAC."
Despite failing to qualify for the playoffs in 2017, Suvak said he believes the team can earn a spot this year.
"We were 3-0 in the conference and probably needed two more wins, but with our goalkeeper issues and losing Paige, things kind of faded away on us," Suvak said. "I feel really good about the quality of the entire group that we have and being able to accomplish making the playoffs this year with five or six wins."
On Sept. 12, the Lions compete away against Wentworth Institute Technology before opening their conference play against Mount Holyoke College on Saturday, Sept. 15 in South Hadley.