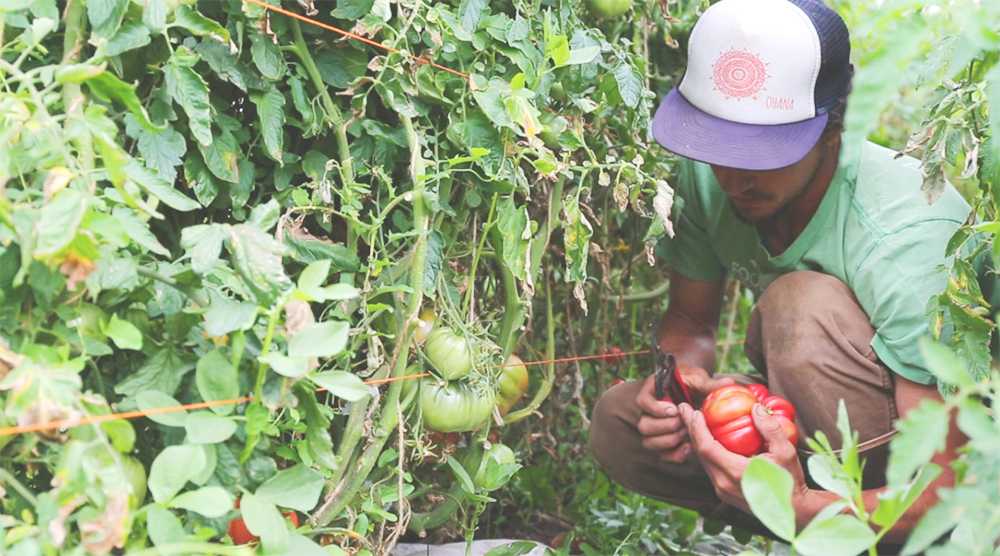 Bite into an apple from the closest grocery store and it has probably travelled hundreds of miles in the days since it was picked. Haley Thompson '04 believes food can be grown much closer to home.
Last month Thompson completed How We Grow, a documentary about the obstacles young farmers face in order to grow food for locals in the Roaring Fork Valley of Colorado. She double majored in writing, literature, and publishing and visual and media arts.
"I was always wishing I could come back and be part of [the farming community] in some way," Thompson said. "It worked out well, after learning my craft, to go home and document the story that they were living."
Thompson co-directed the project with Tomas Zuccareno, a graduate of Prescott College. Together they created a Kickstarter to fund distribution of the documentary, which has yet to be screened. The campaign surpassed its $20,000 goal by $4,128.
"It's always great when any independent filmmaker gets a chance to make their projects a reality," Thompson said.
Thompson and Zuccareno are submitting the film to the festival circuit and hope to eventually donate the documentary to educational institutions.
How We Grow features interviews with farmers like Erin Cuseo of Erin's Acres Farm; Woody Tasch, chairman of Slow Money; and Diane Mitsch Bush, a Colorado State Representative. Bush supports legislation that focuses on farmers' access to land. Slow Money is a non-profit organization that raises funds and invests in local, organic farmers.
The film discusses issues like how industrial farms create competition for small-scale farmers and decrease the overall water supply. Zuccareno said increasing land prices and an unpredictable mountain climate make local farming in Colorado uniquely challenging.
"People like to believe that in Colorado it's all kittens and unicorns," Zuccareno said. "It's difficult to be a farmer in high elevation. It isn't just a smiley issue."
Before the launch of the Kickstarter Thompson and Zuccareno received a Redford Center Grant, which aids filmmakers whose projects promote positive environmental change. They used the funding to create a 10 minute short that premiered at the 5Point Film Festival in Carbondale, Colorado in April 2017. Thompson said they created the short to raise funds and awareness for the feature film. The short, which is available for free on Vimeo, is a precursor to the full-length documentary.
"The [short] film gave me the opportunity to tell the world a very important story about what happens when a community supports its young people," Zuccareno said. "When we were recognized from the Redford Center in winning a grant from them, that's when I felt we were truly onto something."
Thompson said many farmers are reaching retirement and it's up to the next generation to continue to produce local and organic foods.
"We want to try to inspire young people to become farmers and inspire their communities to support them," Zuccareno said.