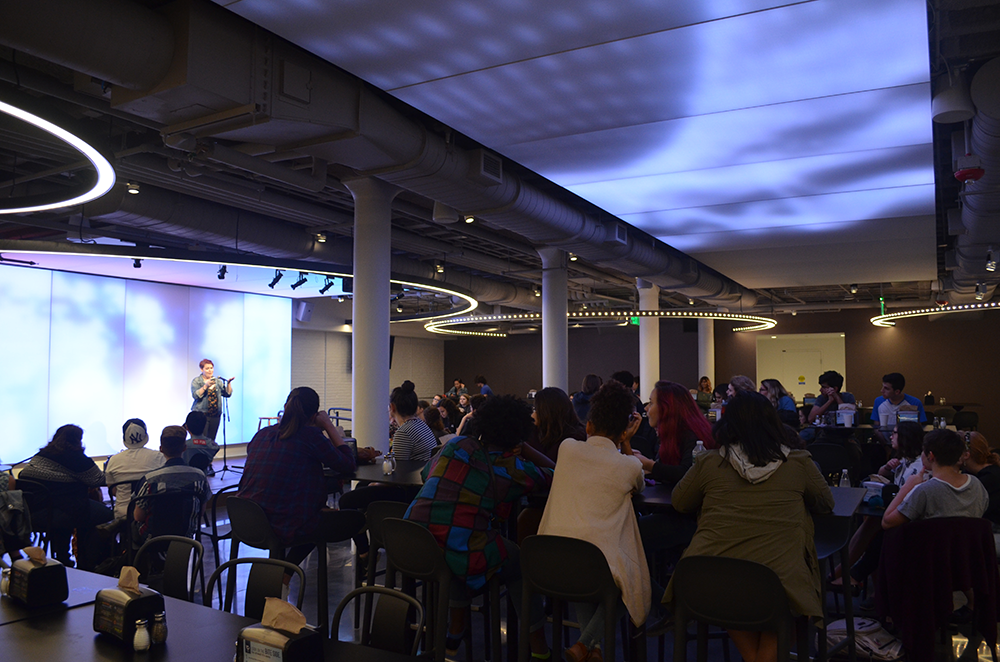 The Emerson Poetry Project used to meet weekly in any space they could find: classrooms, the dining hall, the Parkman Bandstand on Boston Common. This year though, Vice President Myles Taylor said the organization is meeting every Monday at 8 p.m. at Center Stage, a new performance space attached to the dining center.
"Poetry shows in general are such a truly emotional and vulnerable type of show," Taylor said. "It is really nice to have a new space that feels like art."  
Center Stage features a small wooden stage surrounded by cafe-style seating, and a store selling drinks and packaged items. An elevated area includes additional seating and a cafe that serves cooked to order meals. Both the cafe and store are open from 7 a.m. to 2 a.m.
At the start of the school year the cafe featured tablets where students could order meals directly but the tablets have since been swapped for a standard menu.  
Diana MacPhee, the executive chef of the dining center, said a communication error occured between the tablets and a printer. MacPhee said she could not give a time estimate, but the tablets will likely be back.
James Hoppe, dean of campus life, said Center Stage will soon feature nightly performances and events organized by Student Engagement and Leadership.
"We don't have many other spaces at Emerson that are in constant use, where you know you can go to it and find [something]," Hoppe said.
Students may host their own activities at Center Stage. Hoppe said students should contact SEAL, the Campus Center, or Campus Services to reserve the venue.
"I'm even more excited to see how students decide to put it to use," Hoppe said. "It's one of the benefits of being on a creative campus like this. There are things we've never even thought of that are going to be successful, and mainstays of this space that are waiting to be born."
Dylan Tonken, a freshman visual and media arts major, performed at a Center Stage open mic event and said the space provided a bit of a challenge since he could immediately tell if the audience was interested or disinterested.
"It's a very casual environment. You weren't as nervous as if it was something formal," Tonken said. "People were coming and going. But still you had a group of people paying attention."
Angela Christine Piazza, a freshman visual and media arts major, said she liked the cafe-style seating while she performed in an open mic, but was concerned about the lack of seating close to the stage.
"A ton of people in the back weren't connected to what was going on onstage because they were so far away," Piazza said. "I was sitting in the upper section and it was hard to hear."
Hoppe said he hopes Center Stage will showcase a lot of student talent.
"We've never had a space like this before," Hoppe said. "It's kind of like a living room. You can always walk down and see what's going on, hang out if you want, and be with other people. It's also a place to be around other people and not have to interact."