College to mandate weekly self-swab COVID-19 testing for students in the fall
Emerson will provide all students with weekly self-swab COVID-19 testing in the fall, along with a baseline test upon arrival to campus, a college official said Thursday night.
Tests will be purchased from the Broad Institute of Massachusetts Institute of Technology and Harvard University, and administered at Tufts Medical Center at the corner of Kneeland St. and Harrison St., about a quarter of a mile from campus, Vice President and Dean of Campus Life Jim Hoppe said in an email.
"Testing, symptom screening, and contact tracing will be three critical elements in keeping our community as safe and healthy as possible when we return to campus," the email reads.
Each student, including those living off campus, will be assigned a weekly time for testing at the medical center. The Broad Institute will return results within 24 hours of receiving completed tests, according to the institute's website, and the college predicts 24 to 48 hour turnarounds. 
Following the initial round of testing at the beginning of the semester, on-campus students will be confined to their rooms until they have received results. The college will provide "basic meals" during that time.
Off-campus students will be contacted by the college shortly to plan testing accommodations, the email says. Those who don't take a test will not be allowed in campus buildings.
Emerson will cover all weekly and baseline testing costs, which the Broad Institute prices at between $25 and $30. Additional tests for symptomatic students will not be covered by the college. Instead, those costs would fall onto the student and be defined by the mandates of the student's individual health insurance plan whether that be the one from by the college or from an outside provider.
Depending on the number of students enrolled in in-person classes in the fall, those tests could come at a multi-million dollar cost that may further add to the $33 million to $76 million in 2019–20 COVID-19 related losses administrators predict. A $26 million mitigation effort has already been planned.
While the email says all students, faculty, and staff will be required to participate in the testing plan, the frequency at which faculty and staff will be tested is not specified.
The college's testing plan falls in line with a number of other local institutions that have expressed hope to test as often as possible in the fall. Some larger universities intend to test as often as twice a week, meaning demand for the once elusive kits may skyrocket mid-semester.
All students will also be asked to complete a 14-day self-quarantine before coming to campus that they will have to confirm they underwent, though the email does not specify how they will do so.
However, the measures described in the email only require students to social distance, wear a mask, practice "good hand hygiene," limit travel, and begin monitoring for symptoms of COVID-19. Self-isolation is not listed as a requirement.
Students will be given a two hour period to move into their respective residence hall upon arrival to campus, during which only one family member will be allowed to aid them—social distancing guidelines and the mask requirement will apply to the family member.
Additionally, students will take an online training course on Emerson's new guidelines and all members of the community will be required to fill out a daily symptom monitoring form. If a student doesn't complete the form, their access to campus buildings may be limited.
The email concludes by noting that guidelines may change under any new state or local guidance.
"We know the situation is fluid and changing rapidly in many parts of the world," it reads."We will share updated requirements/changing guidance as it becomes available."
Clarification 07/17: This story has been updated to include further information about the costs of additional tests for symptomatic students.
Leave a Comment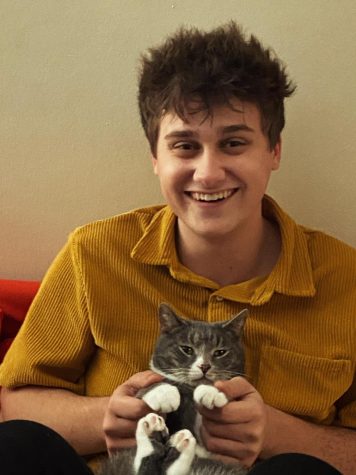 Andrew Brinker, Senior Investigative Reporter
Andrew Brinker graduated in 2022. He previously served as the paper's news editor, directing coverage of Emerson's response to the COVID-19 pandemic. He's also worked as The Beacon's Deputy Express Editor, Senior SGA reporter, and Assistant Enterprise Editor. Brinker is a working freelance journalist. He dearly loves his cat Mittens, learning to cook, soup dumplings, and walking the city of Boston.