Emerson FSL defies Greek life stereotypes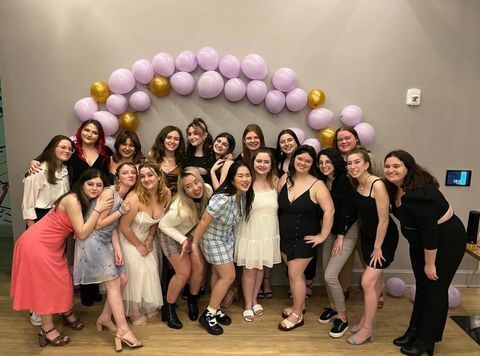 With "RushTok" taking over the ForYou page of TikTok at the start of every fall, the image of sorority girls dancing in coordinated outfits in front of houses paints the picture of "Greek Life." However, at Emerson, sororities and fraternities look different.  
Katie Hervey, a sophomore visual and media arts major and social chair of Sigma Pi Theta, said how recruitment at Emerson is far different from "RushTok." 
"RushTok is so expensive," Hervey said. "People buy outfits just for events, and you have to wear name tags and it just gets so big and it's not personalized either."
Therese Labordo, a senior VMA major and Kappa Gamma Chi president, said Emerson's FSL recruitment process is different in comparison to other schools.  
"Emerson students are known to be extremely busy," she said. "We just hold events and let [potential new members] choose where they want to go at their own discretion, so there's a lot of autonomy in the organizations that they join."
Labordo said that the common feelings of social pressure and fear of rejection are less prominent in Emerson's FSL community than in Greek life at other schools. 
"The rush process, from what I understand, is that you have to go visit every single sorority, and you put in your preferences, and all the sororities put in their preferences," Labordo said. "It's the biggest matchmaking game of all time." 
Each FSL group has a different theme for recruitment. Sigma Pi Theta, a social sorority, is hosting Camp Sigma, with events like a picnic kickoff, s'mores and ghost stories, and speed dating, a higher-intensity event aiming to get more people introduced to each other. 
Kappa Gamma Chi, a professional sorority, has chosen "Kappa in the Stars," with a variety of events and information sessions as well as professionalism workshops and crafts. 
"Kappa wants to provide a space for people to grow, and we don't want to say no to people if they want to grow professionally, socially, whatever you may have it," Labordo said. "It's so fun seeing people's potential and wanting to give them the platform and the space to do that." 
Receiving a bid for Sigma Pi Theta is still a fun and exciting event, Hervey said, without the stress and pressure it might warrant at a larger school. 
"You're not going to be put into an auditorium with a bunch of new members and have to open a card in front of everybody," Hervey said. "If you get a bid, my recruitment team and I will come knock on your door and be like, 'Look, you got a bid, here you go.' You get a card and take your picture, and decide by the end of the day if you want to accept the bid or not." 
Although FSL operates differently at Emerson, Hervey admitted that common issues surrounding Greek life still exist. However, she credited the college with taking issues within FSL groups seriously. 
"The acknowledgement of, and actively working against that stereotype—actively being anti-racist, anti-homophobic—is definitely something that a lot of sororities and fraternities at other schools say they're doing," she said. "But they aren't walking the walk."
Labordo still acknowledged the problematic history of her sorority.
"Historically, Kappa has been predominantly white, and the sororities and fraternities on campus have been founded with the roots of racism in it," she said.
She explained that Kappa Gamma Chi is a professional sorority, but the standards of what that professionalism means are based on a white ideal of professionalism.
Greek life at larger colleges is also known for its party culture—a significant reason why so many join. That culture is not the same for Emerson FSL groups, which lack the staple Greek rows lined with fraternity and sorority houses. At Emerson, only 2 percent of men and 3 percent of women are in FSL groups. Alternatively, at the University of Alabama, 36 percent of the undergraduate student body participates in Greek life. 
"Here it's more about finding not built-in best friends, but people who have your back, people who you might not have gotten to talk to [otherwise]," Hervey said.
Labordo said Kappa Gamma Chi is a space for collective growth. 
"It's more focused on networking, having a sense of community, and being in a space with people you see yourself with and that you want to grow with," she said.