Emerson students oppose Sen. Jeff Flake at City Hall Plaza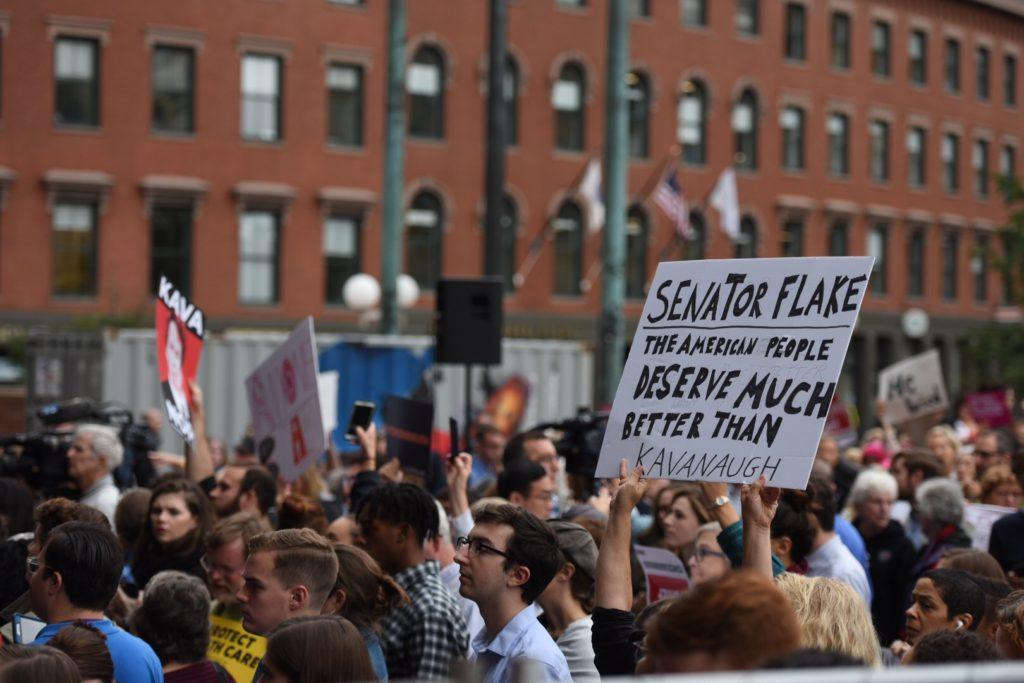 By Chris Van Buskirk
October 4, 2018
Three Emerson students clutched a banner reading "#StopKavanaugh" in front of a rally of hundreds at City Hall Plaza Monday morning. Just days before, senior Erin Swauger, sophomore Annie Noel, and sophomore Mari Sitner organized the rally in opposition of Judge Brett Kavanaugh's nomination to the Supreme Court.
The students co-organized the rally to stand with sexual assault survivors and encourage Senator Jeff Flake to change his decision on Judge Kavanaugh's nomination. Speakers included Mayor Martin J. Walsh, Boston city councilor at-large Ayanna Pressley, and New York state congressional candidate Alexandria Ocasio-Cortez, among others.
The student organizers closed the protest with individual speeches. In her speech, Swauger said she felt proud of her small, student-led protest at Emerson grew into a powerful crowd. Noel spoke last with clear emotion, choking up as she detailed her personal experience with sexual assault.
"When I was growing up, I was told to watch what I wore, to watch what I did," Noel said. "All three of my assailants were people I know, were people I grew up with, people I trusted."
The rally took place steps away from the Forbes Under 30 Summit where Flake held a public discussion about the Kavanaugh hearings. NARAL Pro-Choice Massachusetts, Planned Parenthood Advocacy Fund of Massachusetts, and the American Civil Liberties Union contributed to Swauger, Noel, and Sitner's planning of the rally.
We choose information accessibility
News and the truth are under constant attack in our current moment, just when they are needed the most. The Beacon's quality, fact-based accounting of historic events has never mattered more, and our editorial independence is of paramount importance. We believe journalism is a public good that should be available to all regardless of one's ability to pay for it. But we can not continue to do this without you. Every little bit, whether big or small, helps fund our vital work — now and in the future.
"The Under 30 Summit is a vibrant marketplace of ideas and discussion, and we respect Sen. Flake — and speakers from all points of view — whose decisions have far-reaching impact for society," Senior Vice President of Communication for Forbes Media Matthew Hutchison said in the statement to the Beacon.
Organizers originally scheduled Flake to speak at the Colonial Theatre at an event entitled "Future of the Republican Party." President M. Lee Pelton canceled the panel, citing safety concerns after Swauger, Noel, and Sitner's rally gained about 1,000 interested people on Facebook Friday night.
Student organizers confirmed the protest moved to City Hall Plaza by Saturday afternoon. The move allowed for a larger crowd and spurred a media flurry as politicians volunteered as speakers. Swauger said the protest turnout exceeded her expectations.
"I'm completely overwhelmed in the best way," she said in an interview during the protest. "I never thought that starting something in my bed on a Friday could turn out like this."
Pelton said in a phone interview after the protest that he felt proud of the level of civic engagement Emerson students showed despite the abrupt schedule changes. He also said he recognizes the impact Judge Kavanaugh's nomination left on women.
"These women have suffered in silence for many, many years," Pelton said. "I'm very pleased that our students have given their voice to this important issue."
Cheryl Jackson, professor of Advanced Audio-Video Journalism, invited her class to the plaza as an opportunity for students to practice breaking-news reporting at the local level.
Sophomore Samantha Woolf sat on the plaza floor, recording video of speakers for the class.
"It's incredibly amazing for me to be this close to such monumental government leaders and survivors," she said. "It's extremely exciting for me as a journalist to be this close to such breaking and important news."
Noel, one of the Emerson co-organizers, said in an interview that her experience as the deputy field director for Suffolk County Democratic Nominee for District Attorney Rachael Rollins's election campaign taught her women and people of color can make a difference in politics.
"We can act. We can knock on doors and be heard," she said. "We are going to emphasize that this is about students—students are taking this action. We are not going to let anyone or anything silence us."
Pressley said in an interview with the Beacon that Emerson students often mobilize first.
"I said to the Emerson students today, [Noel] specifically, that I do not consider any of them leaders of tomorrow," Pressley said. "They are the leaders of now."
Chris Van Buskirk,
Chris Van Buskirk is originally from Buenos Aires, Argentina, but was raised in Dallas, Texas. He served as Editor-in-Chief of The Beacon from July 2019 to July 2020.

Email: [email protected]
Tweets...