Man shot on Boston Common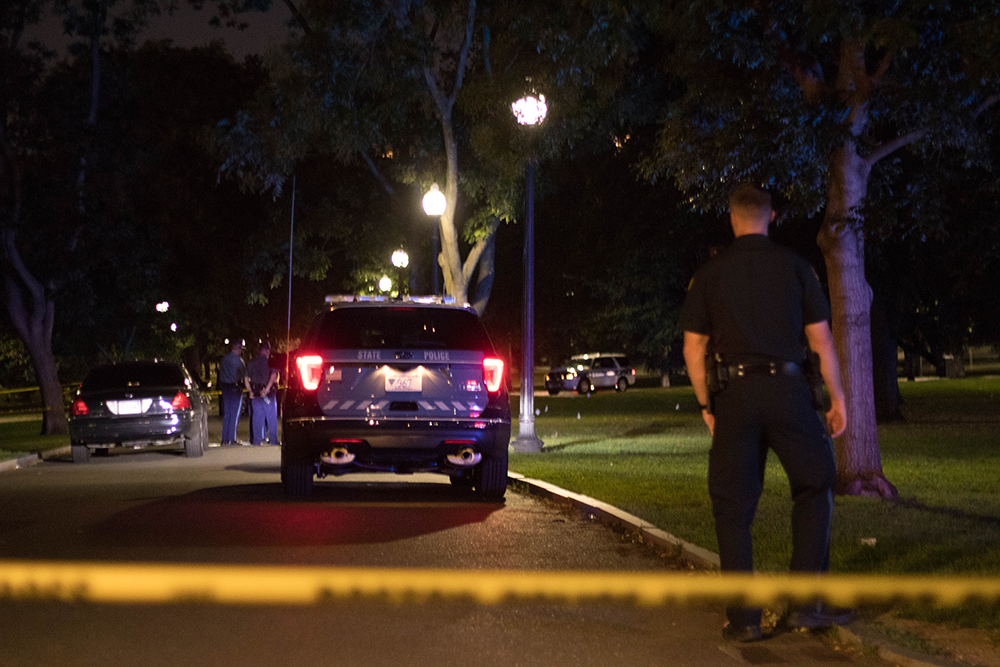 By Stephanie Purifoy, Chris Van Buskirk, Olivia Carey, and Max Reyes
September 12, 2017
Students were told to lock and barricade their doors after both Emerson College and the Boston Police Department received reports of gunshots on the Boston Common around 6:50 p.m. on Tuesday. In an email to the college, President M. Lee Pelton said no students were involved in the shooting.
An alert sent out by the Emerson Emergency Service at 6:59 p.m. on Tuesday told students to shelter in place after the shots were reported. Students were given permission to exit campus spaces at 7:37 p.m.
Police Commissioner William B. Evans, who spoke at a press conference held on the Common following the incident, said BPD officers were informed of shots fired on the Common around 6:47 PM. One gun was recovered near the Parkman Bandstand.
Evans said three people who fled the Common—two on mopeds and one on foot who fled into the transit tunnel—were taken into custody. One person who suffered gunshot wounds is in Tufts Medical Center in critical condition.
As of 4 p.m. Wednesday, the people taken into custody had been questioned and released. There were no updates on the victim's condition and no charges were filed. Evans said those involved in the shooting knew each other.
We choose information accessibility
News and the truth are under constant attack in our current moment, just when they are needed the most. The Beacon's quality, fact-based accounting of historic events has never mattered more, and our editorial independence is of paramount importance. We believe journalism is a public good that should be available to all regardless of one's ability to pay for it. But we can not continue to do this without you. Every little bit, whether big or small, helps fund our vital work — now and in the future.
"It wasn't a random act," he said.
Junior visual and media arts major Eva Zheng said she saw the person of interest who fled on foot enter the transit tunnel.
"When the train came I was about to board," she said. "[The person of interest] just ran in front of me and went into the tunnel and the police just chased down after him."
Brian Simonelli, a junior visual media arts major and a resident assistant at the 12 Hemenway Street residence hall, went to the ECPD office to secure a ride home because he couldn't access the T.
Simonelli was in class when the shooting occurred.
''There's going to be incidents just due to the fact that we're in downtown Boston," he said. "There's only so much that can be done."
"Obviously, the safety of our students is our first priority," Pelton said in an interview with the Beacon following the incident. "It appears our alert system worked very well."
Chris Van Buskirk, Olivia Carey, Stephanie Purifoy, and Max Reyes contributed reporting to this article.
Stephanie Purifoy, Senior Reporter
Stephanie previously served as Managing Editor of The Beacon from January 2020 to July 2020.

Email: [email protected]
Chris Van Buskirk,
Chris Van Buskirk is originally from Buenos Aires, Argentina, but was raised in Dallas, Texas. He served as Editor-in-Chief of The Beacon from July 2019 to July 2020.

Email: [email protected]
Tweets...