Marlboro community attempting to adapt to life in downtown Boston
Sarah-May Schultz's first visit to the old Marlboro College campus, tucked away in the hills of rural Vermont, came when she was just 38 days old. Eighteen years later, she would call that campus home. 
That home, to Schultz and her peers, has become a casualty of the Emerson-Marlboro agreement that was finalized two months ago. The agreement effectively closed Marlboro College, transferring all of its assets and endowment to Emerson while the campus was sold to the nonprofit Democracy Builders.
In the merger's wake, Schultz, now 19, is coping with a move to bustling downtown Boston. The loss of the Marlboro campus has hit students particularly hard. That campus, some say, was a part of the fabric of their community.
"I feel like it was a place where sitting at the dining hall felt like you were sitting with family." Schultz said of the Marlboro campus. "When we had visitors, we welcomed them like they were our own. There's such a sense of place, too. It's hard to put into words how much we've lost in that. You could wander into the woods, and it was the most beautiful thing you'd ever seen. Most of my classes were in an old farmhouse. There are so many aspects that we appreciate [about Emerson] and there are a lot of people who are trying really hard, but some of those people don't have a whole lot of power."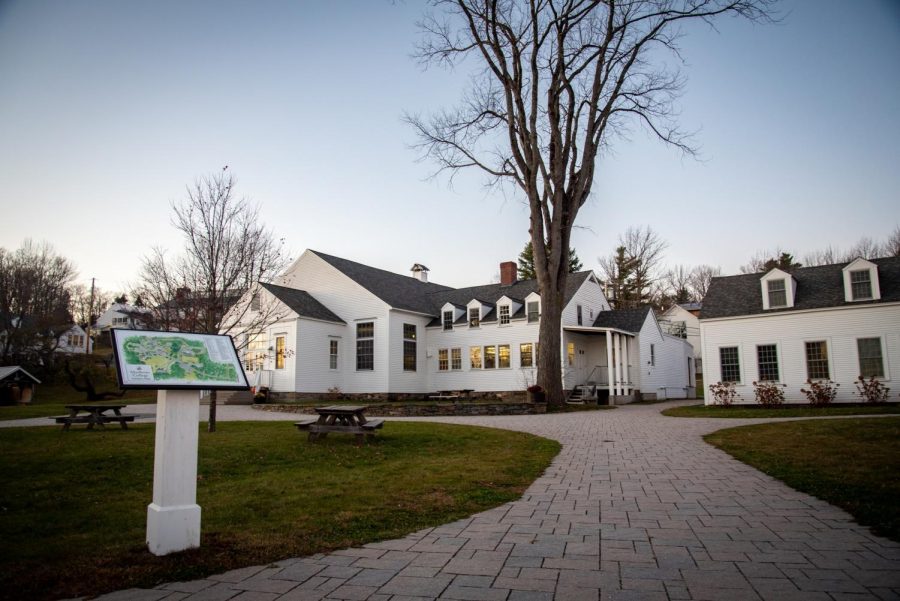 Schultz and her fellow students and faculty absorbed into the Emerson community now feel the absence of Marlboro's freeform academic study structure that allowed students to design their own major.
"[Marlboro] was the first educational environment where I felt I truly belonged, and I feel like a lot of students get that sense of belonging has been stripped from us," Schultz, a second-year, said. "It's difficult to finally have what you want and need in your life and education, just to have it taken away from you."
The transition between the two radically different college experiences has been incredibly challenging, Schultz said. 
"I've had a lot of personal difficulty with the fact that with this new lifestyle change that I'm here, at a school I wouldn't have gotten into and wouldn't be able to afford." Schultz said. "I've been asked by a few Emerson students why I came if I didn't want to be here, and it's because we didn't have a choice. And to me, that lack of choice comes from the vast societal shift towards capitalization of education, and not valuing smaller schools."
Some Marlboro students have reported feeling a sense of apathy from Emerson students.
"There's this level of apathy that we've experienced with some of Emerson's students," Schultz said. "That was so discouraging for me, because I haven't seen that level of apathy since high school. It's difficult to finally have what you want and need in your life and education, just to have it taken away from you."
Senior Charlie Hickman, the former Marlboro Head Select-Person—Marlboro's equivalent of a student body president—said the Emerson community has not made an effort to embrace them and their peers. 
"One of the worst things for me personally was having to go through orientation for the millionth time, especially since I was an RA or a Peer Advisor at Marlboro." Hickman said. "To have to go through this process all over again, and be lumped in with the transfer and new students breeds a resounding sense that because we're Emerson students now, our history at Marlboro doesn't matter as much anymore.
Emerson's tuition has also become a concern among former Marlboro students, as Emerson's tuition rate is more than $20,000 more than Marlboro's was. Emerson allowed Marlboro students to continue paying Marlboro's tuition rate unless they transfer out of the Marlboro Institute for Interdisciplinary Studies or leave the Boston campus.
"We fundamentally don't have the same opportunities that Emerson students have." Hickman said. "A lot of people aren't aware, but [Marlboro students] can't utilize things like Kasteel Wall or the Los Angeles campus because we need our aid more. Even if we wanted to, it's just simply out of reach, because then we'd have to pay full tuition just for wanting to have a good education. It's just upsetting. Students shouldn't have to limit their interests in college like that."
Hickman said the sale of the campus to Democracy Builders has further complicated the community's feelings about the merger. The nonprofit plans to convert the campus to a hybrid model secondary school called "Degrees of Freedom." 
Following the announcement of the sale, Democracy Builders Founder Seth Andrew was accused of cultivating a racist, sexist environment at his Democracy Prep high schools.
"It feels like Marlboro went out with a whimper, as opposed to a bang," Hickman said. "That was worsened by the controversy with Democracy Builders, and made speaking at Marlboro's final commencement feel like speaking into a void."Faculty members from Marlboro have found the transition a bit easier.
Former Marlboro faculty members have hosted two meetings amongst themselves to discuss curriculum changes, address the concerns of students and provide them with guidance, Associate Professor Seth Harter said.
"Different people involved in the merger over the last year have used different terms to characterize it," Harter said. "But it's not like Emerson moved to Marlboro. Obviously however much of Marlboro's people, spirit and academic culture we carry on, it's kind of up to us to find a niche for that, not the other way around. We didn't have much leverage to make it otherwise."
Associate Professor and Director of Curriculum and Administration Amy Vashlishan Murray, who worked closely with Marlboro faculty on making curriculum changes during the merger, said that her department has been aiding Marlboro students so they can complete their educational goals.
"We really have two streams of students from Marlboro," Murray said. "We have students from Marlboro that we're committed to help them finish the work that they began, within our accredited programs. The other stream is the new stream of incoming students, and considering how their trajectory will be different than if they had been back at Marlboro, and I think we have room for imagining."

Harter praised Emerson for its handling of the acquisition. 
"I guess the remarkable thing for me, going back to last year in November, is how supportive and respectful Emerson has been, given the inequities of scale and security," Harter said. "But, I don't think it had to be that way."
The merger was met with animosity and anxiety from community members due to the scope of the deal, Harter said. 
"The concerns were really wide ranging, mainly due to the existential nature of the process." Harter said. "I think for some people, as soon as the deal was announced, it was greeted as a death sentence. Other people took a more optimistic viewpoint to suggest that the parts of Marlboro that we valued are in the community. I think the tension between those two outlooks occupied a lot of our attention. Some people didn't want to get too invested in the process, mainly because they felt it wasn't going to last."
Harter said it has been challenging for faculty to adapt to the larger class sizes and different learning styles of Emerson.
"There was a smaller manifestation of education at Marlboro," Harter said. "I taught most of my classes in my office because it had a conference table in it, and we were all barely a foot apart. At most, there were 10 of us in a class. Now, we have come to re-think everything we've done- from assignments, emails, everything. We have to do it a different way."