Men's soccer looks to contend with young squad
By Kyle Bray, Former Managing Editor: Visual and Design
September 11, 2018
The men's soccer team aims to contend this season with a squad full of new faces after losing key seniors from its previous season.
The team added 16 new players to their roster for the 2018 season after five seniors graduated. The new recruits include 13 freshmen and three transfer students. Newcomers account for over two-thirds of the Lions' squad, leaving only seven returning players from last year's team.
Junior defender Creighton Dorfman said he's impressed with the way the newcomers have adapted to playing at the college level.
"I think I've seen improvement from all of them in some way three games in," Dorfman said. "I'm excited to see how they keep adjusting and I'm proud of the guys and the way they can compete. It's not easy coming in being 17 or 18 years old and being thrown into a college soccer game."
Due to the low number of returning players, the newcomers already take up important roles in the Lions' team. Freshmen Ryan Anderson and Pierce Eldredge, along with transfer student Arturo Ruiz, all started for the Lions in their opening four games.
Head Coach Bryan Harkin said with the number of new players in starting lineup, the focus of the opening games is to find a group that works best.
"It's really just trying to learn their tendencies, what they can improve upon, and what they can bring to us," Harkin said. "It's [about] figuring out what the best combination of players on the field is and giving them the courage to go out there and make mistakes that we'll learn from, improve, and get better."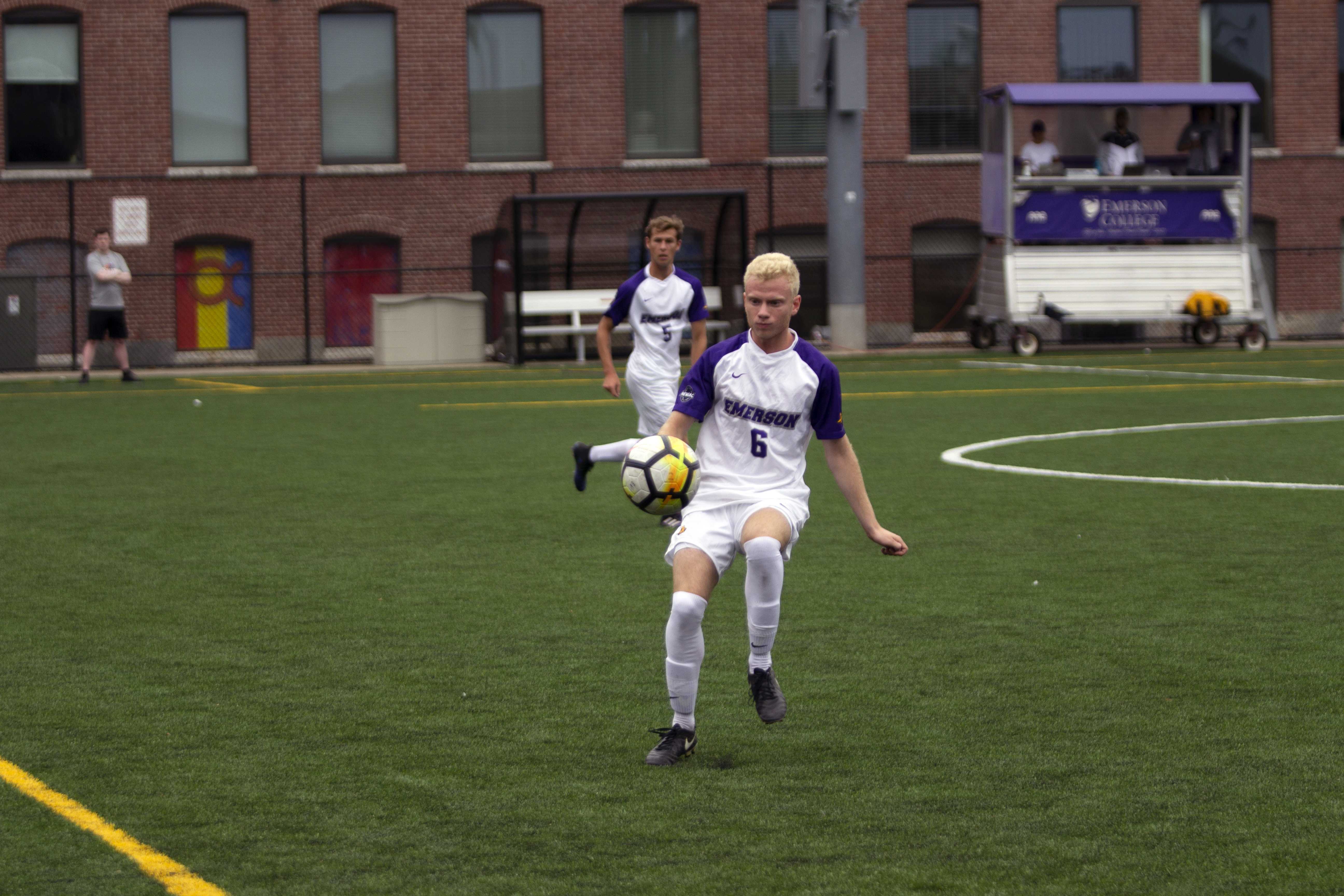 The new season also led to a change in formation for the men's soccer team. While the team spent most of last season in a 4-2-3-1 formation—a lineup with four defenders, two defensive midfielders, three central midfielders, and one forward—the Lions adopted a 3-5-2 formation for this campaign—a lineup with three defenders, five midfielders, and two attackers. Harkin said he moved to the 3-5-2 to fix common issues the team faced in the 2017 season.
"Last year we didn't create enough chances and weren't dangerous with our guys in the attacking area of the field," Harkin said. "But we think with two forwards we can handle that. We still have the same amount of guys in the midfield and hopefully, we're more solid in the middle but we'll just ask more of those two wide guys."
The Lions are off to a tough start to the season with a 1-3 record after four nonconference games. Emerson lost to Pine Manor College 3-0 in their season opener before losing 2-1 to both Emmanuel College and Salem State University. The Lions' lone win came against the University of Massachusetts Boston in a 2-1 double overtime win.
Harkin said he's seen many positives so far in his team's performances this season.
"I've seen a lot of positives all the way through the preseason and through all the games that we've played so far," Harkin said. "[In] all these [nonconference] games, we're using them to figure out what our best lineup and formation is and to just clean up some of the details with the younger guys. I'm excited for them."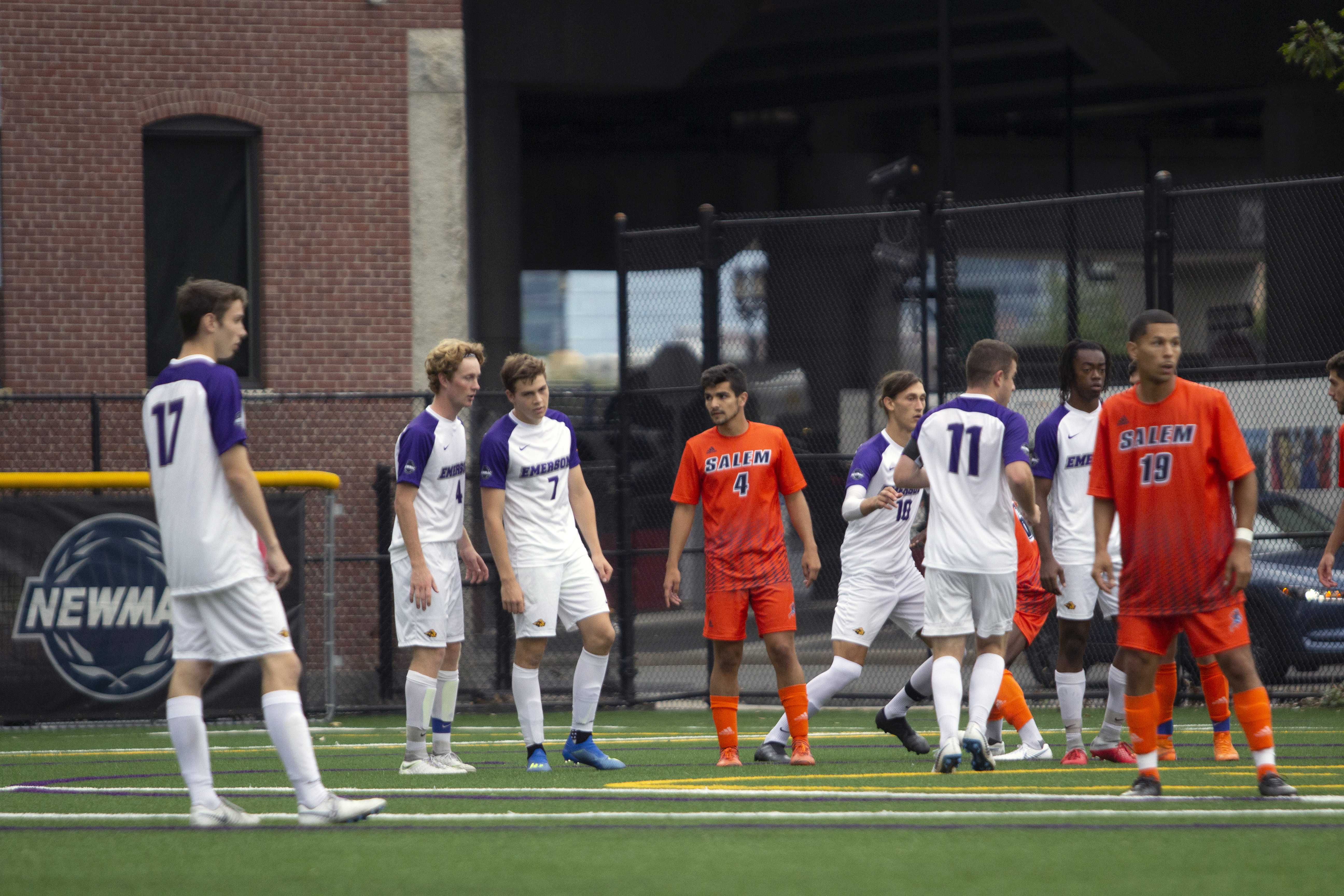 Harkin said the key to success for his team this season is to get a win early on in conference play.
"We want to get that result earlier in the season so we have something to cling on to," Harkin said. "We want it to be a little bit tighter which helps us if we get that result earlier in the season and get that belief. Four out of our seven [NEWMAC] games were tied at halftime so we want to turn those close results into wins for us."
Going forward, Harkin said he hopes to create a positive culture surrounding the team this season.
"The biggest thing for me was creating that culture where we believe that we can win and that we're doing all the right things on and off the field," Harkin said. "From top to bottom, we're just a family and if we create that culture, the training environment is good and positive and everyone gets better. If you take care of that then the wins will come. It's challenging with a younger group, but hopefully, they can teach the younger guys and give them that momentum every game."
The Lions open their conference play against Clark University on Friday, Sept. 14 at Rotch Field at 7 p.m.