Senior Kelsey Day Marlett works with her literary hero, Toni Bee on poetry workshop that brings people together
Kelsey Day Marlett, a senior creative writing major, went from publishing her first book at 11 years old to co-teaching a poetry workshop, Visible and Visibility, with one of her literary heroes, Toni Bee. 
Marlett became a published author before she became a teenager, when her children's adventure book Pintus came out in 2011. Her first poetry collection, The Last Four Years, was published after she turned 18. Now, as a senior in college, her next book Rootlines is coming out on April 21.
"To me, poetry is about connection and trying to wrap human language around something that [is] ultimately unspeakable," Marlett said. "Whatever this thing is that we're all experiencing in life, whatever this sort of pulse is, poetry is about guiding the finger to the pulse."
Writers Without Margins, a nonprofit that provides books to the "unheard and under-resourced communities in Greater Boston," provided a platform for the poetry workshop Visible and Visibility. According to Marlett, the organization is dedicated to the fusion of art and advocacy. The nonprofit partnered with the Boston Public Library to host the workshops under the library's theme for services in 2021, called Repairing America. 
"This year, the library is focusing its institutional priorities on finding ways to help Americans become more resilient and able to face the challenges of today," a statement on the BPL's website said. 
Bee and Marlett were introduced by Cheryl Buchanan, a former affiliated faculty member within the writing, literature, and publishing department, and current executive director of Writers Without Margins.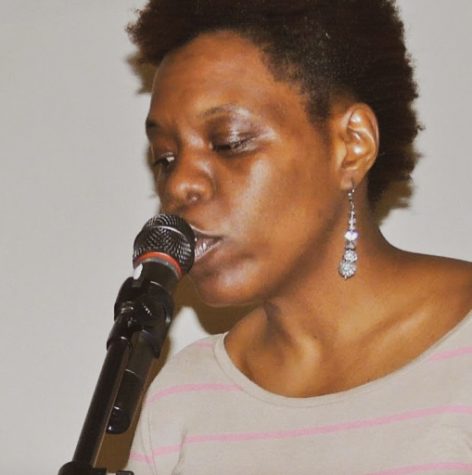 Marlett became involved in Writers Without Margins when she was in a first-year honors seminar and Buchanan visited her class to discuss the organization's mission and get students involved. 
Bee and Marlett did not know each other before the workshop, as both were introduced by Buchanan. 
"When I was first recruited to do this class, I was so nervous, because I knew who Toni Bee was, I read some of her work and, being a powerful organizer with Black Lives Matter," Marlett said. "I felt like I would be working with one of my literary heroes." 
Marlett shared that when she was first offered this class, she was hesitant about accepting the opportunity because of the nature of the class and the discussion of de-centering whiteness.
"Since, you know, Toni Bee is Black, I'm white, Toni is straight, I'm a lesbian," Marlett said.
After some self-reflection and reading, Marlett decided that she was going to do the workshop. 
"Some of the conversation that we had was that white people need to show up to listen, but we also need to show up to build and help build. So as a queer, neurodivergent poet from the South, I was able to bring my own set of experiences to the table with Toni," Marlett said.
"The idea [behind the workshop] is we wanted to de-center whiteness and heterosexuality, which is part of the reason that the nonprofit selected Toni Bee and I to work together." 
Being the workshop's co-host alongside Marlett, Bee has an admirable poetry resume— including being elected Poet Populist of Cambridge in 2011, the first woman to do so. She led a Black Lives Matter march in Cambridge in 2015 and in 2016, when Bee was selected as the Cambridge Inaugural Poetry Ambassador. Bee's writing appears in The New England Poetry Club, The Boston National Poetry Month Festival, and she wrote a self-published poetry book titled 22 Again. Additionally, Bee currently sits on the advisory board of The New England Poetry Club. 
"[Poetry] it's raw, raw emotion, or edited emotion," Bee said. "That's the truth of the author, the truth, the wisdom and the intelligence of the author."
Throughout the four total Visible and Visibility workshops that occurred in April, both Marlett and Bee shared their thoughts about different work from artists that meant something to them. For each workshop, Bee and Marlett would switch off bringing a piece of work to the table that they wanted to highlight. After reading the work, they host a discussion about the piece and the thoughts or emotions that it brought up. 
Bee had lots of advice to give to aspiring poets and writers. 
"Write at least every other day, because you have 24 hours for some idea to germinate within you, and for you to write something. So if you write every other day, there's no excuse," Bee said. "You have to force your pen to paper for your voice to microphone."
Marlett described Bee as one of the most exceptional writers and teachers that she has ever worked with. Bee taught Marlett how to have a presence in the classroom, even when the whole workshop was hosted over Zoom, Marlett said.
"I was fangirling off my ass, pretty much," Marlett said. 
Bee shared how she was a part of a workshop with Revolutionary Spaces about Phyllis Wheatley, the first African American woman to publish a book of poetry. 
"[After taking the Phyllis Wheatley workshop] It just occurred to me how visibly invisible Black people and POC and LGBTQ+ people are, but the rest of the world treats them as invisible," Bee said. "I had that concept [for this workshop] from that time and I brought it to Kelsey, because we're all visibly invisible through Zoom. In this pandemic, it's kind of what we're all going through." 
Reflecting on the workshop, Bee said she loved working with a 21-year-old and the different perspective she brings. According to Bee, society says that Bee and Marlett are supposed to be enemies because of their age and skin color, but yet they came together, and according to both, they learned from each other.
"I just love the idea of, when does a older Black, nappy-headed woman get to teach poetry with a younger blonde woman getting her education, who's white?" Bee said. "I think the fact that we came together and it worked, and that we did damn good. I'm impressed by that. Because that's proof that whatever message has been going out there in the world about diversity and unity, it's starting to reverberate across the generations."
Although the Visible and Visibility workshop is over, Bee is involved in another upcoming workshop called Cambridge Poetry Mashup. During the poetry mashup, viewers will be able to watch local poets recite their work over Zoom. To find out more information on this Mashup, visit PoetryMashup.org.