Versatile sophomore takes charge for women's soccer
Even though sophomore defender Amanda Benavente received offers to play soccer for various Division I and II schools, she chose Emerson—a Division III school.
"I loved the idea of being in the city of Boston, so Emerson was such a good fit for me," Benavente said. "I didn't just come here for soccer. I came here for the academics, so I'm so happy that my life is in sports and academics."
Benavente leads the team with eight points and two assists. She's also tied for three goals with senior forward Jess Frost.
Frost said Benavente's vigor weighs heavily on her ability to play at such a demanding level all around the field.
"From forward, to outside back, to center back, she transitions easily and freely," Frost said. "[She is] one of the fittest people on the team."
Emerson Athletics named Benavente as one of the Lions of the Week for the week of Sept. 18. This was the first time she was given the title in her two years playing for the team.
"It definitely boosted my confidence," Benavente said. "The week before that, I was feeling a little down with my performance in a game, and getting that title helped me realize that I do have positive things I need to focus on. Now that I have this title, I want to go further and keep going up, because you can always keep learning in soccer."
Benavente scored the game-winning goal against Mount Holyoke College, on Sept. 15, from a free kick halfway through the second half of the game by shooting the ball at the far left post of the net. It bounced once and went in the net for a goal.
"I was trying to go for the upper corner, but it actually hit the [left] post and bounced down," Benavente said. "The goalie thought it was going to bounce in front of her, but it hit her in the head and went in the goal. It was an awkward goal, but it went in."
After the team's 2-1 loss to Springfield College in Emerson's New England Women's and Men's Athletic Conference home opener, head coach David Suvak said Benavente has a dynamic personality and it comes from her passion for the sport.
"She is an amazing athlete," Suvak said. "She is very energetic and she's playing enthusiastically for this college. She brings a lot of positive energy to the team."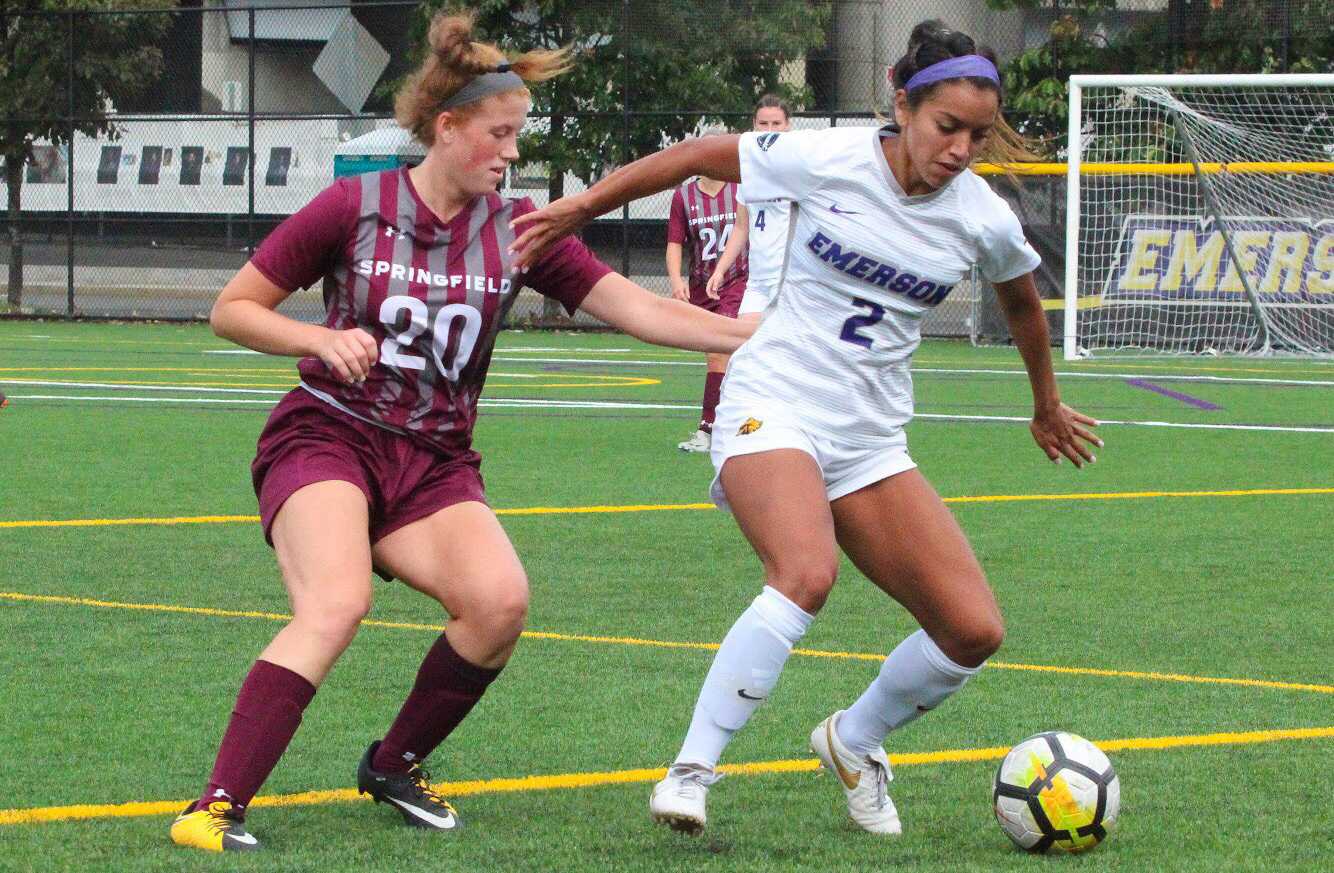 Suvak also said that Benavente's talent as a striking forward and defender on the pitch allows her to play any position.
"She's a truly talented soccer player," Suvak said. "We can play her in a lot of different positions, so she's adding a lot of value to the team."
Benavente said she began playing soccer at nine years old for her local recreational team and quickly moved up to a travel team in an organization known as the Elite Club National League in her junior year of school and that is where her passion for soccer really flourished.
"It was such a crazy transition, because the speed, intensity, and reading the game was so different, but it really prepared me for college," Benavente said. "I got to play with girls of all different skill levels."
This past summer, Benavente played for Team Boca Blast, a semi-professional team in the Women's Premier Soccer League, which she said really upped her game coming into her sophomore year.
"I was the only Division III girl, and I was getting to play with all these Division I and II girls that played at top schools," Benavente said. "It was such a confidence booster and prepared me so much to come here to have fun and prove myself."
Benavente, a business of creative enterprise major, said when she's not on the field, she enjoys marketing and fashion. She works for CodeStart and Adriana's Tailoring, both located near her hometown in southern Florida.
She said her dream is to open her own business, particularly a store or boutique.
"I've been trying to do things to lead me in the right direction, and marketing has a lot of connections with the business world," Benavente said.
Even if her dream career lies in marketing and fashion, Benavente still holds on to her passion for soccer.
"Soccer has shown me so many valuable life lessons that people may not realize you can get from being an athlete," she said. "Being a collegiate student-athlete is part of my life and I don't mind all of the work it involves because it's what I love to do."