The women's soccer team concluded its historic season with a loss to Springfield College in the New England Women's and Men's Athletic Conference semifinals on Nov. 1. They placed third in the conference and won the first home NEWMAC playoff game in Emerson history.
The Lions finished with an 11-7-1 record and went 7-3-1 in the conference, the best conference record of any Emerson soccer team since joining the NEWMAC in 2012.
Head coach David Suvak said his team enjoyed a very successful season.
"Getting to the semifinals was an important step for this program, this team, and me as a coach," Suvak said. "We are trying to make a mark against some colleges that have very good women's soccer programs, and I feel it was a very positive step forward."
Senior forward Jess Frost said the team achieved every objective they had for the season.
"We wanted to have a winning record, defeat a New England Small College Athletic Conference [NESCAC] team, make it to the semi-finals of the NEWMAC tournament, and finish with a home playoff spot, and we accomplished all of that," Frost said.
The team won four of their first eight games this season. They lost 4-0 to a talented Tufts University team before defeating Wesleyan University 1-0 for their first win over a NESCAC school.
Suvak said the team's double-overtime loss against Wentworth Institute of Technology was another significant moment.
"As a group, we learned that we needed to do something different," Suvak said. "I think that, in reflection, it was a negative thing that ended up being a very positive situation for us."
The team bounced back by winning seven of 10 games against challenging opponents like Babson College and the United States Coast Guard Academy to secure a playoff spot for the second time in team history. A 2-1 double-overtime win against Clark University clinched the first home playoff game in Emerson history.
The Lions never beat Babson prior to this season. They defeated them twice this year, including a 1-0 win in the NEWMAC quarterfinals.
"It's very hard to beat Babson in the playoffs," Suvak said. "I think that was a very memorable game that this team will never forget."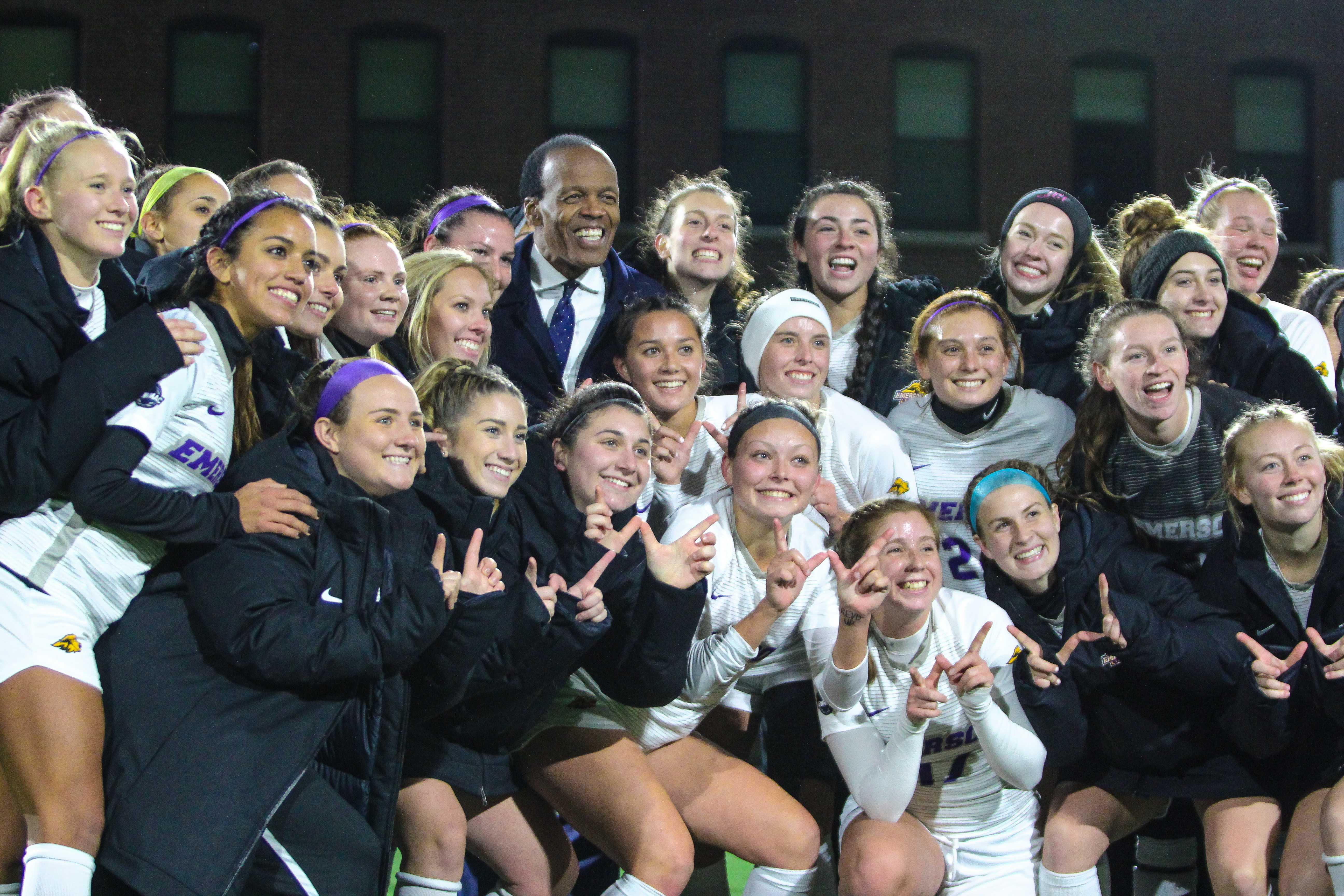 Frost led the team with eight goals and eight assists, and freshmen goalkeeper Megan Rose had a team-high 102 saves. Both players placed in the top 10 in the conference in those categories. To cap the season, the NEWMAC named sophomore defender Amanda Benavente, senior forward Paige Haley, and Frost to its 2018 NEWMAC Women's Soccer First Team All-Conference, while Rose achieved Second Team All-Conference.
Suvak said the team will miss the experience of its seven graduating seniors—Rachel Lord, Serina Bailiff Curtis, Alexandra Hanson, Elizabeth Noble, Kira Venturini, Frost, and Haley.
"Jess Frost and Paige Haley are going to be very hard to replace because of their ability to put the ball in the back of the net," Suvak said. "I think they're all going to be hard to replace because of their contributions to this team."
Frost said her favorite memory from the season was the 3-2 win over Babson on senior day.
"To get two assists and a goal in front of my family was great," Frost said. "To clinch that first playoff spot with all the seniors was amazing."
Returners like forward Veronica Alberts and Benavente will attempt to make history again next season. Suvak said he wants to raise the bar for his team moving forward.
"I'm going to want to win that semifinal game and get a home field draw in the playoffs," Suvak said. "I want to move the team up in the rankings with the best teams in the nation."
The Lions will try to bolster their roster for a deeper playoff run with their 2019 recruiting class.
"We have some very talented kids that are coming from all over the country," Suvak said. "They're bringing high-level club experience to our program, which could elevate us past a semi-final loss."