Five women's soccer players received spots on the NEWMAC All-Conference Teams on Nov. 13 following the team's second consecutive winning season. 
After each season, the New England Women's and Men's Athletic Conference coaches vote to decide the two 13-player All-Conference Teams, which recognize the top performers in the conference. 
Sophomore goalkeeper Megan Rose and freshman defender Cali Bruce appear on the first team while senior forward Veronica Alberts, sophomore midfielder Grace Cosgrove, and junior defender Amanda Benavente made the second team. 
Rose started 34 games for the Lions over two seasons. This is her second appearance on the NEWMAC All-Conference Team.
The Lions allowed 34 goals in 2018, and Rose said they made it their goal to cut the number in half this year. They met their exact target by conceding 17 goals. Head coach David Suvak said he is proud of Rose's improvements going into her second season.
"I think the biggest thing I noticed was her leadership got stronger," Suvak said in an interview. "She was leading the team as a captain and controlling games in the back." 
Rose made 78 saves this season, but credited the entire defensive unit with keeping the goal total low.
Bruce and Benavente both received All-Conference recognition for their contributions to the Lions' defense. 
Bruce started all 19 games for the Lions as a freshman, scoring two goals and recording four assists. Suvak moved Bruce to center back after she began the season as a midfielder. 
"I don't really consider myself a goalscorer, but I wanted to get X-amount of assists and help set up and create goal-scoring opportunities," Bruce said in an interview. "Starting to play defense, which is what I used to do on my club team, was like going back to my more traditional role. I guess my goals there were to just be a really good leader because, especially as a center back and a freshman, it's an interesting dynamic."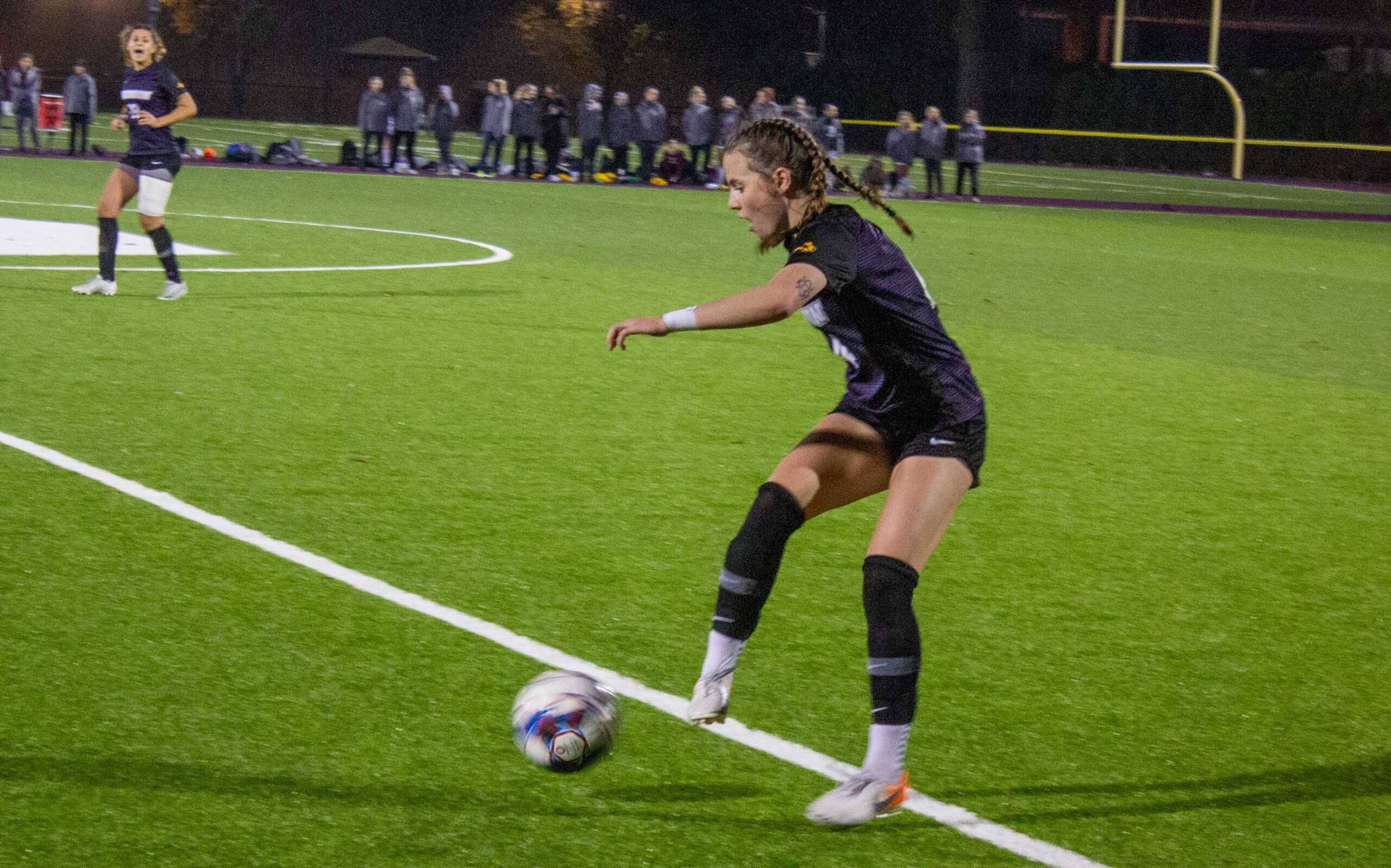 Once the Lions entered conference play, Suvak made the position change and said he saw immediate results. 
"She brought a certain level of confidence and calmness to the back line and was able to control what was happening from the back," Suvak said. "I think she played a big part in the reason why we gave up substantially less goals."
Bruce credits the upperclassmen with helping her progress. 
"I think I made a lot of growth personally," Bruce said. "This is probably my most confident season. I went into every game like feeling very capable. That ties in with my own personal confidence, but also the team was super positive and helped me feel comfortable." 
Benavente appeared on the NEWMAC All-Conference Team for the second time after making the first team last year. Suvak said he is glad the coaches still recognize Benevente as one of the best defenders in the conference. 
"She had to deal with the best forwards in the conference in every match," Suvak said. "That was what I was putting on her. She's a very athletic player and is able to manage some very good forwards. I think she just got edged out of the first team, but I'm happy she is All-Conference, she deserves that."
In addition to the several defenders honored by the NEWMAC, two Emerson forwards also made appearances on All-Conference Teams. Alberts received second team All-Conference recognition for the first time in her career. As a senior, she scored three game-winning goals for the Lions. 
"I'm really happy for her, because she has been a very dangerous attacker for Emerson since she was a freshman here," Suvak said. 
Cosgrove joined Alberts as a member of the All-Conference second team at midfield. She led the Lions in scoring with eight goals and five assists. 
"I think Grace was recognized as one of the better midfielders in the conference, and there's some pretty talented kids in that group," Suvak said. "She was no longer a first year doing some things out there on the field kind of unnoticed. She was being marked many times and having to deal with new pressures."
Of the five players to make the All-Conference Teams, only Alberts is graduating. Suvak remains optimistic going into next year. 
"I feel really good about what this team's future could be," Suvak said. "If we had scored one or two goals in the last five games, we would have been in a slightly different position, but for what we were this year we had an excellent season."