Emerson remembers Daniel Hollis' kindness, warmth, and his love for Travis Scott
Emerson Sophomore Daniel Hollis was the type of team player and friend that showed up to lacrosse practice on a chilly fall day even though he had bronchitis and knew he couldn't step onto the field. 
Senior Austin Franklin recalled that they played a game called West Jenny during that practice. Hollis threw the balls out to the players and kept saying "Money ball! Money ball!" and joking around, Franklin said. 
Franklin would later discover Hollis' reference came from a popular ice hockey video game they bonded over. The two were both former hockey players.
"That's just how Dan always was, always trying to make us laugh, especially during lacrosse season when we start Feb. 1. it's cold and it can be a long season," Franklin said in an interview with The Beacon. "We got days where sometimes we're just practicing in the snow, and you need guys like Dan on a team, who's just always upbeat and positive and cracking jokes."
An ambulance met Hollis in Brighton, Sep. 28, around 1:20 a.m. and rushed him to a hospital where he underwent emergency surgery after an altercation left the goalie injured and unconscious. Doctors determined that Hollis would not regain consciousness due to irreparable brain damage. Hollis died on Oct. 2, 2019, his death is classified as a homicide which is currently under investigation. In early November, the United States Marine Corps identified a suspect. 
Hollis is survived by his mother Jennifer, his father Jason, and his sister Kate. According to a journal entry by the Hollis family, Hollis chose to be an organ donor.
"While still in the early stages, Dan's foundation will be providing scholarships and learning experiences for the wider community," the family wrote on caringbridge.org on Nov. 7. "More details regarding the foundation and the tournament will be released as they become available."
Franklin, a member of Emerson's lacrosse team, met Hollis as soon as he arrived on campus. Franklin said he remembers Hollis' goofy smile and how the sophomore consistently brought joy to the people around him. 
"One of the first people you'd hear [on the field] is Dan, leading the charge," Franklin said.  "Saying 'WOW,' 'that's sick,''what a big save,' and always firing people up. Anytime we had a goal, Dan would get so fired up. I'd always look over and Dan would be giving everybody pounds and just be so excited."
Franklin said it can be hard for athletes to be on the bench since players in a college sport usually want to play right away. He said positive players such as Hollis are crucial to a team. 
"Even when I was the farthest away from the bench, I could still feel that energy," Franklin said. 
Men's Lacrosse Coach Matthew Colombini met Hollis when the student first visited the college during the fall semester of his senior year in high school.
"He just had a great personality, great energy," Colombini said in an interview. "He was smiling the whole time, he asked a bunch of great questions. He was just excited about the school, and lacrosse, and was just very outgoing."
Colombini said Hollis, like many freshmen, matured as a college student and athlete living on his own during his time at Emerson. But the goalie remained the same outgoing, happy person since the first day he visited campus. 
"There [were] times on the sideline he would make a joke or comment that would make me laugh in the middle of a tense game," he said. "During practice, in games, in the locker room, whenever he was around he was a mood lightener—that was one of his biggest skills."
Franklin recalled one of the first games the team had to dress up for;Hollis showed up in a full suit. 
"When he dressed up, he was very traditional—full suit, nice leather shoes, tie up all the way," Franklin said. "But then his day-to-day style was unique, in terms of his jeans, he'd do different paint designs on them." 
Hollis was planning to start his own clothing company, Franklin said. He recalled a pair of jeans that Hollis painted the character Patrick Star from Spongebob on once, and others he decorated with splatter paint. 
Franklin also said Hollis would show him a new song every time they saw each other.
"He had a huge range in musical taste I'd say," Franklin said. "But I also think it speaks to how Dan was as a person, Dan would be friends with just about anybody. Just as long as you're kind and enjoy hanging out with people. I kind of feel like those were the only requirements to be friends with him." 
One of Hollis' first classes at Emerson was American popular music with professor Frederika King. 
"There was a certain way he held himself, he was tall and slender, he kind of slid into the room," King said with a smile.
She remembered Hollis sitting in the front row of the classroom and although he seemed shy, he appeared comfortable in the class.
Hollis attended a Travis Scott concert in December 2018 and excitedly offered to show King the videos he recorded. King is also a Travis Scott fan; she said she wanted to go to the concert so she felt elated to see some of it because of Hollis.  
"When I went to the link to caringbridge, there was a quote from Travis Scott on [the site], who is one of his favorites, which at the time I just knew he was really thrilled to be at the concert—I was thrilled he had been at the concert," King said. "And then it turned out he was his favorite, it was really cool he shared that with me."
King said Hollis is not the first student she has had that died young. She strives on making stronger individual connections with students moving forward, although large classes can make that difficult.  
Franklin last saw Hollis a week before his death. The senior arrived on campus about 40 minutes early for class and texted his lacrosse friends to see if someone was free. Hollis replied shortly after asking if Franklin wanted to play one of their favorite video games, EA's NHL. But, this time they decided to play a different game mode. 
"So I've never played this game mode before so we start playing 3 on 3 and he doesn't tell me any of the rules," Franklin explained. "[Later] it's 7 to nothing, so I make a miraculous comeback with 20 seconds left in the game, and then I thought, there's no way Dan can come back. With two seconds left, Dan takes a slapshot from the blue line and scores a three-point money puck, and he's grinning ear to ear and he just goes 'WOW.'"
Franklin said he felt rattled by his sudden loss but he couldn't be mad at Hollis because of how excited got.
"He just says, 'that's one of the best games I've ever played!'" Franklin recalled. 
Afterward, Franklin started packing up for class and when he looked up Hollis was grinning again. He had pulled out a large bag of candy from his freezer and excitedly offered Franklin candy—the frozen Twizzlers were Hollis' favorite. 
"I was just instantly in a better mood," Franklin said.  "He was just so happy just to play video games and give me some candy, it instantly made my day better heading into class."
Leave a Comment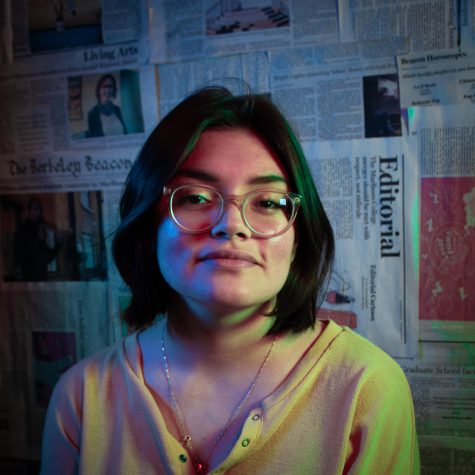 Belen Dumont, News Editor
Belen Dumont is a Junior journalism major with a minor in women's, gender, and sexuality studies and The Beacon's current News Editor. The Connecticut native is a first-generation American who hopes to report investigative stories and local, national, and international news during her lifetime. On campus, she's also a part of NAHJ, Kappa Gamma Chi, and has previously written for Atlas Magazine and WEBN.