Pelton voices support for "Defund the Police" initiative in virtual panel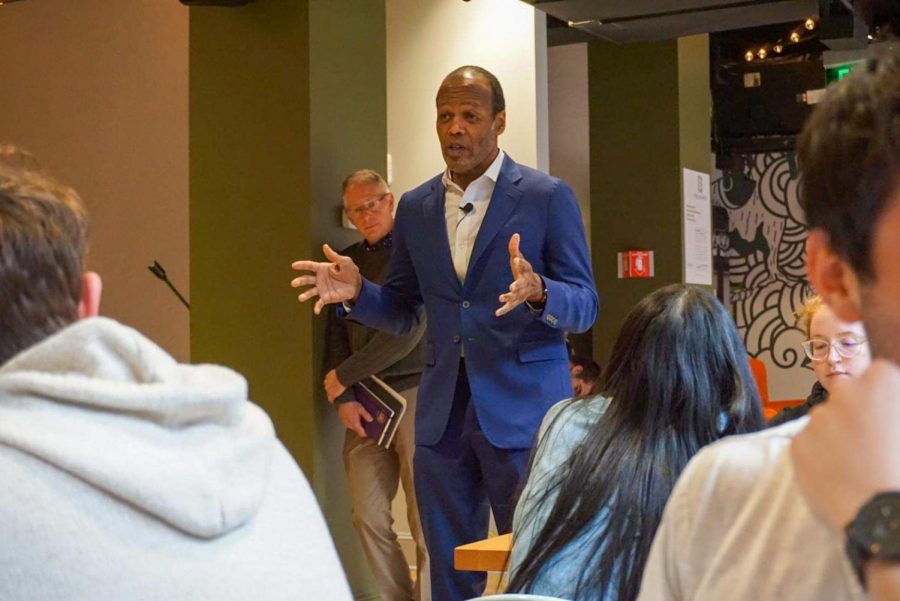 By Diana Bravo, Assistant News Editor
June 18, 2020
President M. Lee Pelton joined mounting numbers nationwide in voicing support for the "Defund the Police" initiative that calls for police department funding to be reallocated to community resources, in a Tuesday evening panel hosted by Commonwealth Magazine.
The panel, titled "The Pandemic and Police" was moderated by former Massachusetts Governor Deval Patrick  and focused on the Black Lives Matter movement, specifically in Boston, and its impact on the perception of race nationwide.
"We have to reconstruct law enforcement in this country… I'm supportive of defunding the police,"  Pelton said in the panel. "We're obviously going to [need] the police, but we have to defund it and strip it of all its militarization which is so much a part of the culture now and… [potentially] redistribute that money to some structural issues." 
The "Defund the Police" initiative has gained nationwide traction in recent weeks following the police killing of George Floyd and an outpouring of support for the Black Lives Matter movement. The initiative calls for significant cuts to police department funding across the U.S. in order to invest more deeply in social programs and push some police duties to municipal departments and community groups.
Pelton also denounced the All Lives Matter movement, a foil for Black Lives Matter that is popular among right-wing groups and conservatives. 
We choose information accessibility
News and the truth are under constant attack in our current moment, just when they are needed the most. The Beacon's quality, fact-based accounting of historic events has never mattered more, and our editorial independence is of paramount importance. We believe journalism is a public good that should be available to all regardless of one's ability to pay for it. But we can not continue to do this without you. Every little bit, whether big or small, helps fund our vital work — now and in the future.
"All lives matter, but that's not the issue that we're dealing with right now,"  Pelton said. "The issue that we're dealing with right now is Black lives, and there is a profound sense that, for some folks, they don't matter." 
The panel also touched on the intersection of racism and public health, just days after Mayor Martin J. Walsh declared racism a public health crisis in Boston.
"The mayor's declaration of racism as a public health issue is important because that kind of issuance also helps direct funding and directs policy [to help people of color in Boston],"  Panelist Dr. Myechia Minter-Jordan, CEO of The Dimock Center, said. 
Pelton said he expects the Black Lives Matter movement to have a large presence on college campuses in the fall.
"Change requires a certain level of discomfort," Pelton said. "As a college president, I'm going to be uncomfortable because I know a lot of these issues will come to my campus."
Diana Bravo, Assistant News Editor