Protesters square off in front of State House
Beacon Street became a no man's land between two conflicting rallies on Saturday, separated by metal barriers and rows of police. On one side, a local far-right political group hosted a "Restore Sanity" protest in support of police, and on the other, counter-protesters turned out for "All Out Against White Supremacy!"
The group of about 30 far-right protesters blasted the national anthem through large speakers and waved American flags. The considerably larger crowd of over 200 counter-protesters yelled chants of "Black Lives Matter" and "No good cops in a racist system." They dressed in black and carried drums, metal plates, shakers, and noise-makers to drown out the speeches and songs played by protesters in front of the State House.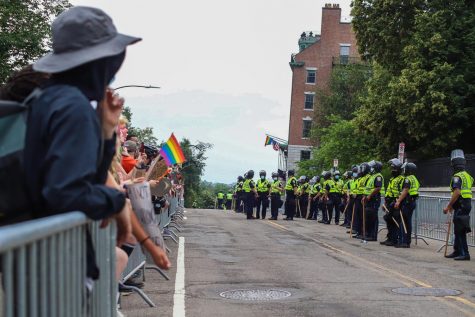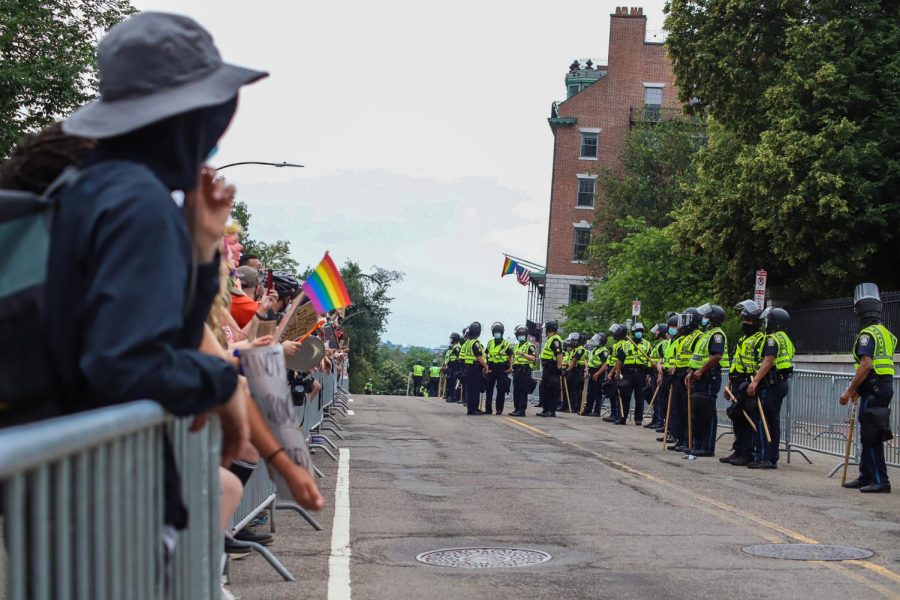 The demonstrations Saturday come amidst a backdrop of nationwide protests against police violence and systemic racism. Thousands have peacefully poured into the streets in Boston in recent weeks, spurred by the death of George Floyd, a Black man, at the hands of a white Minneapolis police officer. 
The far-right protest was organized by a local conservative organization, Super Happy Fun America, to rebuke the nationwide protests against police brutality. SHFA organized last August's Straight Pride Parade that resulted in a few violent clashes between organizers and counter-protesters.
The counter-protest was organized by local community coalition Solidarity Against Hate and organizers urged Bostonians to show up in solidarity with communities of color.
"Once again, we as a city must come together to drown out their hate," the statement on their Facebook page said. "Like we've done so many times, we need to rally the community against this threat and stop it before it grows any bigger."
At one point, a counter-protester leaped over a metal barrier into the street to grab an unidentifiable object, which mobilized police at the scene. After the counter-protester returned behind the barrier, police sealed off entrances on both sides and formed a line in the street between the two groups.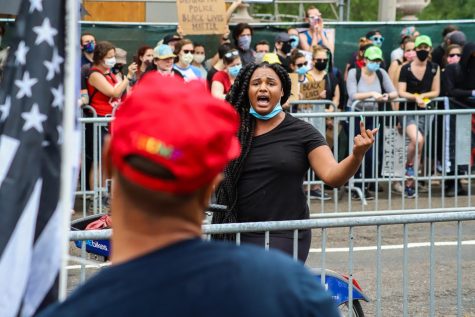 Starting around 2:30 p.m., the SHFA protesters began to pack up their equipment and leave. Counter-protesters chanted after them, "Go home, racists" and followed them from behind barriers as they drove away. A group of Black Lives Matter protesters then marched down towards City Hall Plaza. 
Police on bicycles had formed a line blocking Beacon Street at the intersection of Somerset Street, but moved out of the way for the march and allowed the group to pass. 
Protesters convened in City Hall Plaza and set up a makeshift rally, allowing speakers to use a megaphone to address the gathered crowd with impromptu speeches. While no police were initially present, several officers eventually arrived and parked on Cambridge Street at the rear of the crowd. 
The crowd of several hundred took a knee in front of City Hall, giving those who spoke their full attention. Around ten different members of the crowd stepped forward to speak about their own experiences and to encourage protesters to keep up the momentum of the movement.
The first speaker, who did not identify herself but who led many chants during the original counter-protest, spoke about police brutality in Black communities, and her own fear for her family. 
"Those people, they don't care," she said. "They talk about black on black crime, but they don't talk about the fact that the police are always in those fucking communities."
She also referenced the police killing of Philando Castile, a Black man who was shot in his car in front of his girlfriend and daughter. Her brother has children, she said, and she worries that they will have to experience police brutality too. 
"Philando Castile's daughter watched the police kill him," she said. "My niece is 10. She'll completely understand what's going on [if that happens]."
One of the speakers who addressed the crowd was Darrell Jones, a local man who was wrongfully incarcerated in 1986 for murder and spent 32 years in prison before being cleared in June 2019. Jones said that at the original counter-protest, he crossed the street and tried to talk to the SHFA protesters about their views.
In his speech, Jones asked the crowd if anyone knew who Daryl Davis was. Davis is a Black musician who has met with KKK groups and convinced many of their members to leave.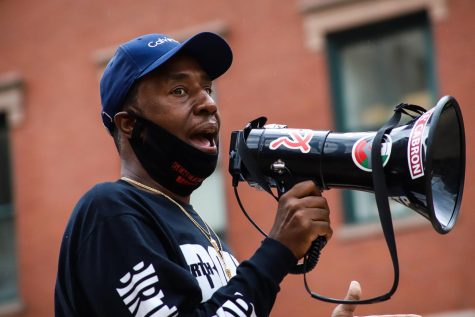 "Did we get any of them out of their robes today?" Jones asked the crowd, referring to the SHFA members. "No. That's why I went on that side. Because if we don't have a dialogue with them at the same time, we're not going to understand how they think."
Leave a Comment
Parker Purifoy, Emerson '21
Parker served as Managing Editor, News Editor, and Senior Reporter at The Beacon. They graduated from the college with a journalism degree in December 2020.

Email: [email protected]
Follow @parker_purifoy
Abigail Hadfield, Deputy Copy Editor
Abigail Hadfield is a senior from the Philadelphia area who has been with The Beacon for all four years of their time at Emerson. They have served as an editor in the opinion and news sections and served as the Copy Managing Editor in fall 2019. They currently are in their second semester serving as the Deputy Copy Editor, and they plan to pursue a career in copy editing/writing after graduation in order to support their lifelong passion for creative...