Proposed merger between Marlboro and Emerson College on "expedited" track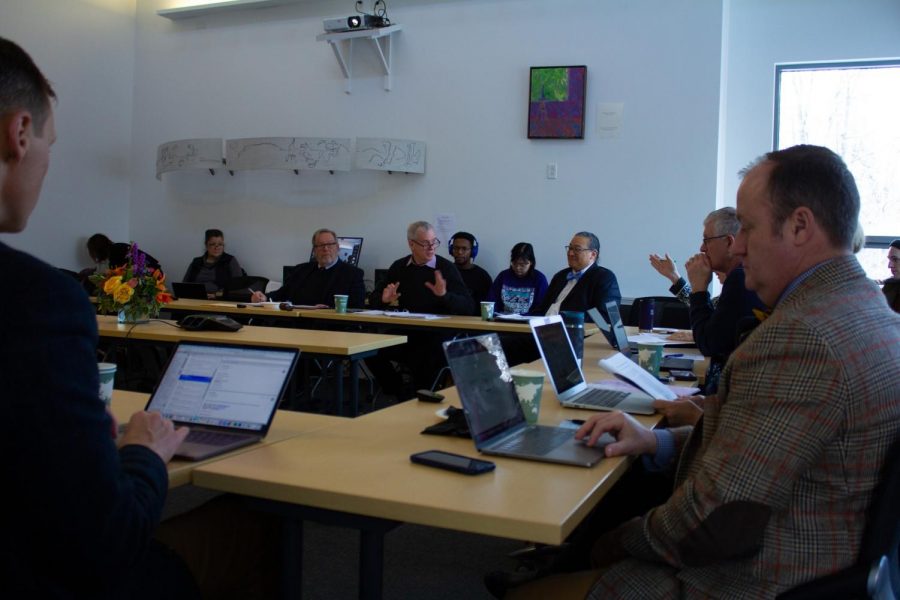 By Jacob Seitz, Senior Marlboro Reporter
February 8, 2020
MARLBORO, VT—The Marlboro Board of Trustees announced they are attempting to expedite the timeline of the proposed merger with Emerson College at their meeting Saturday where they also discussed critics of the merger and tensions between the alumni and the Board.
Chair of the Board Richard Saudek said the Board is attempting to speed up the process and that legal counsel from Emerson and Marlboro aim to have a final contract by late March.In the meeting, Head Selectperson Charlie Hickman said an accelerated timeline would help students who need to fill out transfer applications due in the same month.
"It would just be so much more helpful for students to know with certainty, what their next semester is going to look like so that they can make the best decisions for themselves," they said in the meeting.
A letter circulated by former Marlboro alumni, faculty, and staff sparked a contentious debate at the meeting, led by Director of Residence Life Tanner Jones and Marlboro alumnus Amy Tudor.
"It was devastating for some of our staff who have given their lives to this institution to know personally a lot of those people that were a part of that [letter]," Jones said during the meeting. "They attack all of us when they do that, and they've neglected a lot of numbers that they supposedly do care about."
We choose information accessibility
News and the truth are under constant attack in our current moment, just when they are needed the most. The Beacon's quality, fact-based accounting of historic events has never mattered more, and our editorial independence is of paramount importance. We believe journalism is a public good that should be available to all regardless of one's ability to pay for it. But we can not continue to do this without you. Every little bit, whether big or small, helps fund our vital work — now and in the future.
The main point of contention came from a line in the letter regarding faculty and students.
"The faculty and students have become observers, employees, or 'clientele,' rather than co-owners of a participatory institution," the letter states. "So it is not surprising to find acquiescence in the face of this latest and most catastrophic piece of presidential decision-making."
The meeting grew tense when Tudor raised concerns about dialogue between the Board and alumni. She proposed listening sessions for members of the Marlboro community—staff, faculty, students, and alumni—to come together and hear each other's concerns about the merger.
"My position is that everyone is doing their best," Tudor said. "But many of you Board members, you don't live here. You don't know what it's like to have friends not talk to each other anymore, you don't know what it's like to meet someone for the first time and have them be reluctant to shake your hand."
Hickman said after the meeting that while they think the listening session is a good idea, they worry about the outcome of it.
"After we had the open comments section in the December trustee meeting, and the town halls that happened earlier, and how divisive and volatile those got, I'm just worried about what kind of energy that would bring to campus, when things are already on edge," Hickman said.
Tudor said after the meeting that the tense and terse response to her question is indicative of why she believes the community needs a session as she proposed.
"I think the responses to my bringing up the question of can we listen to each other showed why we have to listen to each other," she said. "What I saw there was more hurt."
According to documents obtained by The Beacon, Marlboro enrolled seven freshmen for the spring 2020 term—their first and only semester at the college. The documents also showed that Marlboro is projected to bring in $4.5 million in tuition for the 2020 fiscal year, but will also award nearly $3 million in scholarships.
Dean of Admissions Fumio Sugihara said in the meeting that 78 students have started the application process to Marlboro for the 2020 fall semester, with 25 completed applications. Because the merger with Emerson is not official, Marlboro has told applicants to apply to Emerson under the Marlboro Institute, but cannot share information of the applicants with Emerson until the merger is finalized.
After the meeting, Saudek expressed frustration at critic from alumni that the merger is not the only option for Marlboro.
"I don't know whether we should fault ourselves or not for the fact that people still don't quite understand the stresses that this college was under for an extended period."
Jacob Seitz, Senior Marlboro Reporter
Jacob Seitz is originally from Central Ohio and resides in Cambridge. He currently serves as Assistant Express Editor and Senior Marlboro Reporter. He was previously Assistant Editor of The Record, the...