Several college buildings damaged during Sunday's protests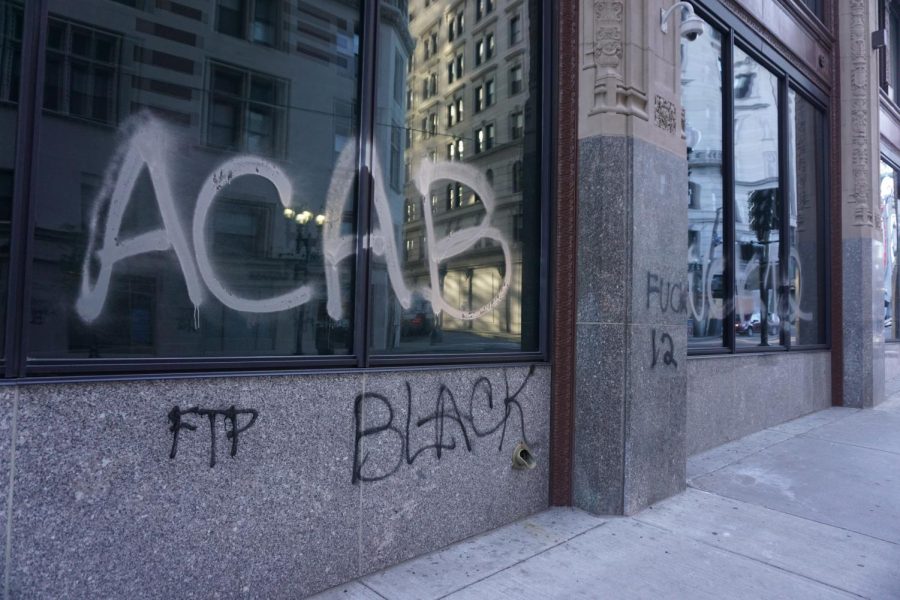 By Charlie McKenna, Deputy News Editor
June 1, 2020
Seven Emerson buildings were vandalized and had windows smashed after protests erupted throughout Boston Sunday night, following the killing of George Floyd by a white police officer in Minneapolis, according to a college official.
Emerson College Police Department Chief Robert Smith told the Beacon in an email that the Little Building, Print and Copy Center, Barnes & Noble, Dining Center, Piano Row, 172 Tremont, and Media Art Gallery were all damaged in the protests that turned downtown Boston into a battleground and resulted in many other vandalized buildings around campus. No ECPD officers or members of the Emerson community were injured during the protests and none of the college's buildings were breached by protestors.   
Explicit graffiti on Emerson's Little Building dorm. pic.twitter.com/DvEvkHEjVp

— Dylan Rossiter (@ByDylanRossiter) June 1, 2020
We choose information accessibility
News and the truth are under constant attack in our current moment, just when they are needed the most. The Beacon's quality, fact-based accounting of historic events has never mattered more, and our editorial independence is of paramount importance. We believe journalism is a public good that should be available to all regardless of one's ability to pay for it. But we can not continue to do this without you. Every little bit, whether big or small, helps fund our vital work — now and in the future.
The damage to the college's property includes two broken windows in Little Building—one on the Boylston St. side as well as the El Jefe's Taqueria window. Windows were also broken in the Print and Copy Center, the Dining Center, Barnes & Noble, and Piano Row. Protestors also damaged the door of the Print and Copy Center, Smith said. 
Little Building, the Media Art Gallery, and 172 Tremont were all graffitied by protestors. Graffiti on Little Building read "ACAB", an acronym for "all cops are bastards", and "Fuck 12", slang for "fuck the police".
The protests turned violent Sunday night when police fired tear gas and pepper spray into crowds after protestors threw rocks and bottles. The National Guard was called in by Governor Charlie Baker to assist Boston Police during the demonstrations, which began peacefully in Roxbury and ended at the statehouse.  
A police cruiser was set on fire by protestors near the Park Street Church. Separately, several protestors were hit by another cruiser. 
Several businesses downtown were looted during the protests including the Wild Duck, Men's Warehouse, and the Walgreens on Boylston St. 
President M. Lee Pelton could not be immediately reached for comment Monday. He has not publicly addressed Sunday night's violence but did send an emotional email to the community Sunday evening detailing his reaction to the killing of Floyd and recalling instances in which he himself was harassed by police.
In an email to the community Monday, Vice President and Dean of Campus Life James Hoppe said that while many of the college's buildings were damaged, it is only a small indicator of the long-lasting wounds inflicted upon black Americans.
"Hundreds of years of systemic oppression have brought America to this point," Hoppe wrote.  "People protest for many reasons, pain, anger, and trauma among them. In some cases, violence is an eruption of people pushed beyond their limits."
Charlie McKenna, Deputy News Editor
Charlie McKenna is from Los Angeles, CA and currently serves as The Beacon's Deputy Express Editor, where he leads The Beacon's coverage of events, breaking news, and student government at the college....