Incident Journal: Offensive graffiti found in Piano Row and Little Building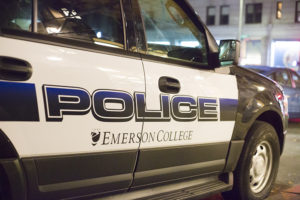 The Emerson College Police Department provides the Incident Journal to The Beacon every week. Beacon staff edit the Incident Journal for style and clarity but not for content.

Monday, Jan. 20
ECPD and Boston Fire responded to a broken sprinkler pipe inside the Piano Row residence hall. The cause of the alarm was a student accidentally striking a sprinkler pipe while decorating their room. There were no injuries to report.
Wednesday, Jan. 22
ECPD is investigating offensive graffiti drawn inside stairwells in the Piano Row residence hall.
All the big stories delivered to your inbox every Thursday morning 
ECPD received a report of a student who had been a victim of Assault and Battery.
Thursday, Jan. 23
ECPD responded to a person with no college affiliation trespassing inside the Paramount Theatre. Officers found the person inside a bathroom and removed them from the theatre.
An officer on patrol found multiple doors unsecured in the construction area of the Little Building. After checking the area for suspicious activity, the officer secured the doors.
Friday, Jan. 24
ECPD is investigating offensive graffiti found in the residential section of the Little Building.
Students reported being harassed while visiting the Boston Public Library on Boylston Street.
Saturday, Jan. 25
ECPD investigated a report of a trespasser inside the Tufte Building. The investigation revealed the person had left the building before ECPD could locate them.
Sunday, Jan. 26
ECPD investigated a report of a person hanging small posters on different college-owned properties. ECPD removed the signage.
A student reported that clothing from the Little Building laundry room was missing.